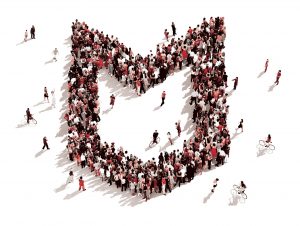 I ruined Easter Sunday 2017 for McAfee employees the world over. That was the day our company's page on a prominent social media platform was defaced—less than two weeks after McAfee had spun out of Intel to create one of the world's largest pure-play cybersecurity companies. The hack would have been embarrassing for any company; it was humiliating for a cybersecurity company. And, while I could point the finger of blame in any number of directions, the sobering reality is that the hack happened on my watch, since, as the CMO of McAfee, it was my team's responsibility to do everything in our power to safeguard the image of our company on that social media platform. We had failed to do so.
Personal accountability is an uncomfortable thing. Defensive behavior comes much more naturally to many of us, including me. But, without accountability, change is hindered. And, when you find yourself in the crosshairs of a hacker, change—and change quickly—you must.
I didn't intend to ruin that Easter Sunday for my colleagues. There was nothing I wanted less than to call my CEO and peers and spoil their holiday with the news. And, I didn't relish having to notify all our employees of the same the following Monday. It wasn't that I was legally obligated to let anyone know of the hack; after all, McAfee's systems were never in jeopardy. But our brand reputation took a hit that day, and our employees deserved to know that their CMO had let her guard down just long enough for an opportunistic hacker to strike.
I tell you this story not out of self-flagellation or so that you can feel, "Hey, better her than me!" I share this story because it's a microcosm of why I wrote a book, The Cybersecurity Playbook: How Every Leader and Employee Can Contribute to a Culture of Security.
I'm not alone in having experienced an unfortunate hack that may have been prevented had my team and I been more diligent in practicing habits to minimize it. Every day, organizations are attacked the world over. And, behind every hack, there's a story. There's hindsight of what might have been done to avoid it. While the attack on that Easter Sunday was humbling, the way in which my McAfee teammates responded, and the lessons we learned, were inspirational.
I realized in the aftermath that there's a real need for a playbook that gives every employee—from the frontline worker to the board director—a prescription for strong cybersecurity hygiene. I realized that everyone can play an indispensable role in protecting her organization from attack. And, I grasped that common sense is not always common practice.
There's no shortage of cybersecurity books available for your consumption from reputable, talented authors with a variety of experiences. You'll find some from journalists, who have dissected some of the most legendary breaches in history. You'll find others from luminaries, who speak with authority as being venerable forefathers of the industry. And you'll find more still from technical experts, who decipher the intricate elements of cybersecurity in significant detail.
But, you won't find many from marketers. So why trust this marketer with a topic of such gravity? Because this marketer not only works for a company that has its origins in cybersecurity but found herself on her heels that fateful Easter Sunday. I know what it's like to have to respond—and respond fast—when time is not on your side and your reputation is in the hands of a hacker. And, while McAfee certainly had a playbook to act accordingly, I realized that every company should have the same.
So, whether you're in marketing, human resources, product development, IT or finance—or a board member, CEO, manager or individual contributor—this book gives you a playbook to incorporate cybersecurity habits in your routine. I'm not so naïve as to believe that cybersecurity will become everyone's primary job. But, I know that cybersecurity is now too important to be left exclusively in the hands of IT. And, I am idealistic to envision a workplace where sound cybersecurity practice becomes so routine, that all employees regularly do their part to collectively improve the defenses of their organization. I hope this book empowers action; your organization needs you in this fight.
Allison Cerra's book, The Cybersecurity Playbook: How Every Leader and Employee Can Contribute to a Culture of Security, is scheduled to be released September 12, 2019 and can be preordered at amazon.com.
The post The Cybersecurity Playbook: Why I Wrote a Cybersecurity Book appeared first on McAfee Blogs.
Article Link: https://securingtomorrow.mcafee.com/other-blogs/executive-perspectives/the-cybersecurity-playbook-why-i-wrote-a-cybersecurity-book/