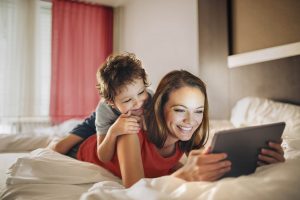 If you haven't given your online privacy much attention lately then things need to change. In our era of weekly data breaches, the 'I've got nothing to hide' excuse no longer cuts it. In my opinion, ensuring your privacy is protected online is probably more important than protecting your home and car! A sloppy approach to online privacy can have devastating ramifications to your financial health, your career and even your physical wellbeing.
This week is Privacy Awareness Week in Australia – a great reminder to give our online privacy a 'check-up' and work out what we can do to ensure the information we share online (and who sees it) is locked down.
What Do We Need to Protect?
When we think about online privacy, we often think about protecting our password and financial data online. But it's a little more complicated. There are 2 categories of information that we share in our online life that requires protection.
Personally Identifying Information (PII) – this includes our name, birthdate, address and Medicare number
Non-Personally Identifying Information – this includes the information about what we do online. It's a combination of the websites we visit, what we buy online, our online searches and the pages we like on our social media profiles. Our online activity creates a digital folder about ourselves and many companies just love this data so they can send targeted ads your way. Ever wondered why you receive ads about holiday destinations after a few wishful holiday Google searches?
Without adequate online privacy, all the information about our online activities can be collected and analysed by third parties. In fact, data collected (legally) about you by websites can be very lucrative! Companies, known as data brokers, collect and maintain data on millions on people and charge handsomely for their services!
Why Do I Need To Worry About My Online Privacy?
Just think for a moment about some of the information that is stored about you online…
Your PII is stored in the background of probably every online account you have including social media, news and banking
Your online banking and superannuation sites contain details of all your accounts and your net worth
Your health and taxation records maybe accessible online which may contain sensitive information you would prefer not to be shared
If you haven't disabled location services on your phone, your whereabouts can be tracked by clever parties on a daily basis
Your pictures and videos
While some of this information is stored without your control, there are steps you can take to tighten up access.
Now, think about your daily online activity…
Anything you order online via your web browser can be recorded
Anytime you send an email with sensitive information, there is a risk this will also be shared
Anytime you pay on the go using a facility like Apple Pay, your purchase will be tracked
Anything you search for, the articles you read, the movie tickets you buy and even your weekly online grocery order can be tracked
If this comes as a shock to you then you're not alone. Many Aussies have been in the dark about what information is available about them online. But, don't throw the towel in – there are strategies to tighten up your online privacy.
How To Get Your Online Privacy Under Control
There are a few simple steps you can take to lock down your valuable online information. So, make yourself a nice cuppa and let's get to work:
Manage Your Passwords
Your online passwords are as important as your house keys. In fact, in many cases, it is the only thing stopping cybercriminals from accessing our vital information that we have saved online. So, if you want to tighten up access to your online banking, your social media platforms and your favourite online shopping sites then you need to think carefully about how you manage your passwords.
Passwords need to be complex and unique with at least 8-10 characters and a combination of letters, numbers and symbols. And each of your online accounts should have a separate password which should be changed regularly. Too hard? Consider a Password Manager which creates and manages complex passwords for each of your online accounts – a complete no brainer!! McAfee's Total Protection software includes a Password Manager which stores, auto-fills and generates unique passwords for all your online accounts. All you need to do is remember one master password! Easy!
And don't forget, if one of your online accounts is affected by a data breach, then you need to change that password ASAP. If you have a password manager, simply have it generate another password for you.
Use Public Wi-Fi With Caution
If you are serious about your online privacy then you need to use public Wi-Fi sparingly. Unsecured public Wi-Fi is a very risky business. Anything you share could easily find its way into the hands of cybercriminals. So, please avoid sharing any sensitive or personal information while using public Wi-Fi. If you travel regularly or spend the bulk of your time on the road then consider investing in a VPN. A VPN (Virtual Private Network) encrypts your activity which means your login details and other sensitive information is protected. McAfee has a great VPN product called Safe Connect. An excellent insurance policy!
Use 2-Factor Authentication
Adding an additional layer of security to protect yourself when accessing your online accounts is another great way of guarding your online privacy. Turn on two-factor authentication for Google, Dropbox, Facebook and whatever other site offers it. For those new to this option, this means that in addition to your password, you will need to provide another form of identification to ensure you are who you say you are. Most commonly, this is a code sent to your mobile phone or generated by a smart phone app.
Keep Your Software Updated
Software updates and patches are often designed to address a security vulnerability so ALWAYS install them so the bad guys can't take advantage of security hole in your system. If it all becomes to hard, why not automate the updates?
Invest in Security Software for ALL Your Devices
Installing comprehensive security software on all your devices including laptops, tablets and smartphones adds another layer of protection to your vital online information. Check out McAfee's Total Protection software that will ensure you and your devices are protected against viruses, malware spyware and ransomware.
Consider a Search Engine that Doesn't Track Your Every Move Online
If you would prefer that your search engines didn't collect and store the information you enter then consider an alternative 'privacy focussed' search engine. Check out DuckDuckGo that doesn't profile users or track or sell your information to third parties.
Delete All Cookies
Cookies are another way your online activity can be tracked. While some are harmless and used to simply remember things about you such as your login information and language, others known as  tracking cookies remain permanently constantly gathering information about your behaviour and what you click on. So, let's get rid of them! Head into your web browser's Privacy settings and clean them out.
So, let's get our online privacy under control this Privacy Awareness Week. But don't forget about your kids and elderly relatives too! Proactively managing one's online privacy needs to be a priority for everyone. Why not start a conversation at the dinner table? Perhaps give the family a daily privacy related task every day during Privacy Awareness Week? For example:
Monday – Clean up your passwords or set up a Password Manager
Tuesday –  Research a VPN
Wednesday – Set up 2 factor authentication
Thursday – Ensure all your software is up to date and set up auto-updates where possible
Friday – Research privacy focussed search engines and delete all cookies
Over to you mums and dads. Would love to hear how you go.
Alex xx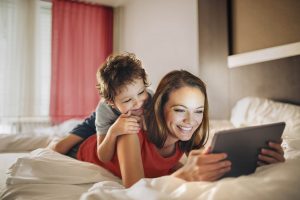 The post Privacy Awareness Week 2019 – Are You In The Dark About Your Online Privacy? appeared first on McAfee Blogs.
Article Link: https://securingtomorrow.mcafee.com/consumer/family-safety/privacy-awareness-week-2019/