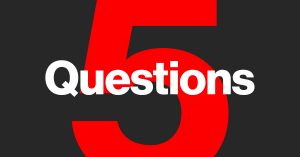 At CrowdStrike, we sometimes like to say, "There's data, big data and CrowdStrike data," by which we mean our engineers work with a volume and scale of data that is totally unmatched in the tech world. Cloud Engineer Morgan Maxwell learned as much firsthand, when she joined four and a half years ago. Since then, she's come to embrace the volume of data, the scale of our cloud and the pace of our business model.
In our latest installment of 5 Questions, we sit down with Morgan to learn more about what it's like to work at a place with "more microservices than people."
Q: What does your role entail?
I'm a cloud engineer, which is truly the most awesome title ever and leads to much amusement among family and friends who do not work in technology.
Like most cloud engineers, I'm not a computer security subject matter expert. Our focus is on robust, distributed systems that can process unprecedented amounts of data. Within cloud, I'm part of the auth team — we handle all the authentication and authorization infrastructure for the platform.
My day-to-day is a combination of application development, operations and cat herding. We are always adding new features, which may involve creating a new microservice — at this point, I'm quite sure cloud services outnumber cloud engineers. We spend a lot of time thinking about reliability — monitoring, alerting, reducing errors with automation, swapping out existing components to obtain greater scalability, operational flexibility, etc. — and we are first to the scene of many fires.
One unique aspect of auth is that because so much of the cloud integrates with or extends our infrastructure, we get to engage with a wide range of teams and learn about their use cases.
Q: What's the most rewarding part of your job?
It's solving thorny problems! When I started, I was really insecure in my troubleshooting abilities and uncomfortable in high-pressure situations. Working in the cloud, you get thrown into these chaotic, ambiguous situations, where some highly visible feature is breaking in a way everyone finds completely befuddling. Yet, with everyone's powers combined, you somehow figure it out. It's a real rush.
I also love being part of a team that's feverishly developing something new. Shortly after COVID-19 hit, a strike team was assembled to work nonstop until we could ship a home-use offering. We released it in less than two weeks, and this sounds weird, but it was one of the most fantastic experiences I've had at CrowdStrike. I also got to work on the first iteration of the CrowdStrike Store and our free trial program. These were more extended projects. I really enjoy the first weeks where you can focus on the specific component you're building. Then you move into the phase where everything is ostensibly complete, but nothing is working together like it's supposed to. But you can feel the momentum building, and it just carries you through those days of troubleshooting and fixes that are standing between you and that final deployment.
As a company, we have a great mission. It's in these moments that you viscerally feel like you're part of something bigger than yourself.
Q: What's something unique about working here?
It's the sheer scale at which we operate — this plays out in three ways.
The first is event volume: We're in a unique position where we're pushing common applications and libraries to their limits and encountering problems few others see. In some cases, it's not a slow build — you hit a certain threshold, and things escalate quickly!
The second is how vast and sprawling the cloud is. Few people have managed to hold all of it in their heads. You start a new project that interacts with some part you never encountered, and it's a whole new world to conquer. I find that at any given time, there are lots of interesting things happening ambiently than I can possibly follow.
The third, from a people perspective, is about how distributed we are across the world. It's surreal to interact with colleagues from so many different geographies in one day!
Q: How would you describe working at CrowdStrike for people who may be considering a role here?
It's intense, but rewarding! I've never worked with so many smart and driven people — I feel humbled to be in their company! More than that, engineers here are really invested in each other's success — they're generous with their knowledge and go out of their way to help with projects. There's a real sense that we're all pulling toward a common goal.
Q: What's something your coworkers might not know about you?
I went to law school, passed the bar, decided that the engineers at my various workplaces were the ones having all the fun, and started my first engineering job when I was 29!
Are you interested in working with Morgan at CrowdStrike? Head to our Resource & Engagement Portal at GopherCon 2020 where you can find out how to meet our team and talk all things cyber: https://www.gophercon.com/page/1623781/crowdstrike
Not attending GopherCon? Check out the CrowdStrike Careers page to learn more about our teams, our culture and current open positions.
Additional Resources:
The post Learning How to Problem-Solve at Scale and Embrace a World of Continuous Change with Morgan Maxwell, Cloud Engineer appeared first on .
Article Link: https://www.crowdstrike.com/blog/five-questions-with-morgan-maxwell/