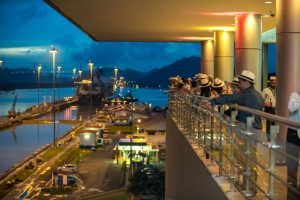 Earlier this month, Arbor hosted its second annual LATAM Partners Summit, this time in Panama City, Panama. Forty-two partner companies from Latin America attended the Summit, with a total of 94 professionals, twice the number of participants who attended the event last year, when we met in Fort Lauderdale, FL.
The event was remarkable! You can see it from the photos. In one we're all wearing the famous "Panama hat," which is actually made using materials from Ecuador, where it's almost always manufactured.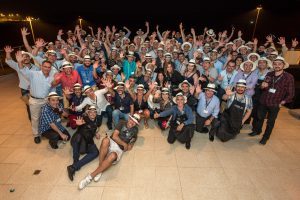 A highlight of the event was a visit to the Panama Canal, where we held a "Top Chef" competition. The competition was fierce and the views from above the Panama Canal were amazing. Arbor partners and employees enjoyed the experience of a lifetime watching the ships cross through the locks. A great time was had by all!
The LATAM Partners Summit was fun…but also extremely productive. The event allowed partners to interact with Arbor employees and management team to hone their technical and commercial skills, network with peers, and exchange experiences with other partners from across Latin America.
Held in June, the event's agenda included several keynotes highlighting Arbor's vision, products' roadmap, marketing strategy, and other key themes. The second day of the event included a technical track and a sales enablement track with role-playing and a competition.
The Summit took place at a crucial time for enterprises in Latin America. Like all companies globally, enterprises in Latin America need to adapt to a new scenario of threats – bigger, more frequent and more complex DDoS attacks. Factors such as IoT botnets, increased ransomware threats, and an international community of professional and sophisticated hackers create an urgency for protection and assurance. Appropriately, the theme of the Summit was "The Stakes Have Changed: Are You Ready for the Challenge?" The partners left Panama with the tools and knowledge to help their customers protect their infrastructure against DDoS attacks and cyber threats.
To close our event, Arbor held a recognition dinner, in which we awarded our partners for their continued support and commitment. I take my (Panama) hat off to our partners in LATAM and look forward to continuing to work together. And on to planning next year's Summit – I can't wait!
The post 2017 Arbor Networks LATAM Partners Summit: Celebrating on the Panama Canal! appeared first on Arbor Insights - Our people, products and ideas.
Article Link: https://www.arbornetworks.com/blog/insight/2017-arbor-networks-latam-partners-summit-celebrating-panama-canal/