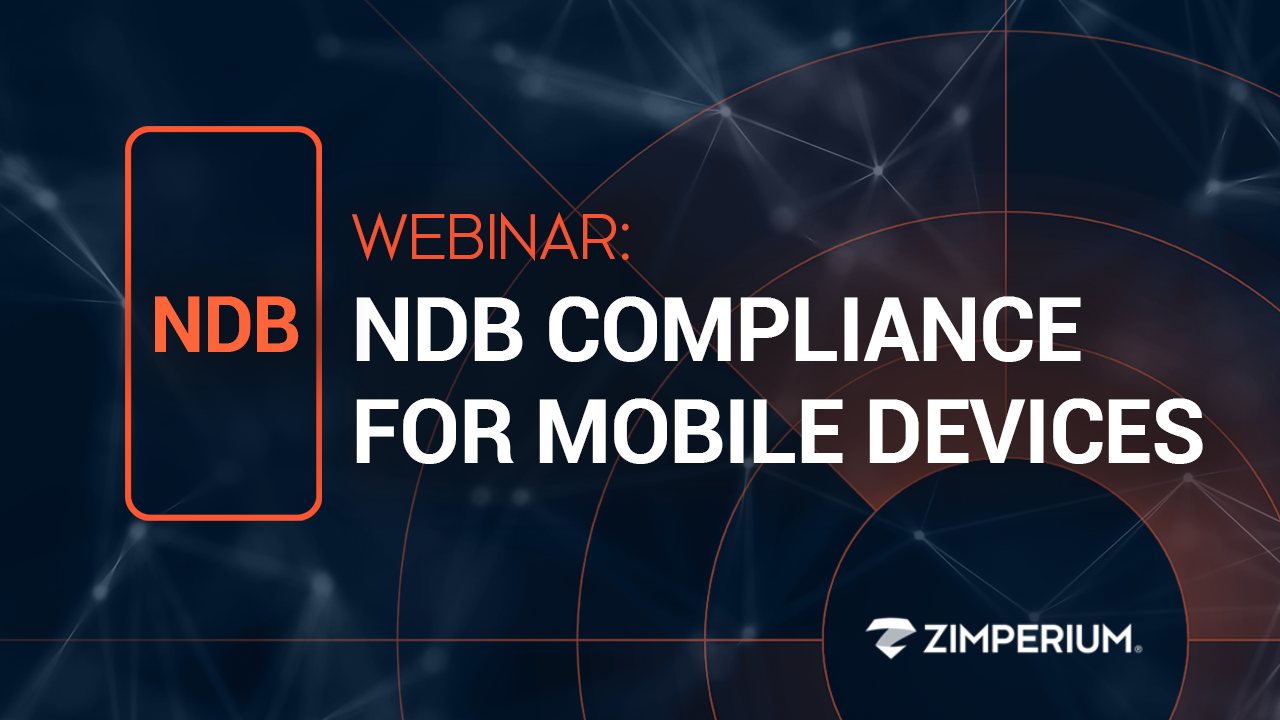 NDB, part of Australia's Privacy Act of 1988, introduced an obligation to notify individuals whose personal information is involved in a data breach that is likely to result in serious harm. The legislation applies to all businesses carried on in Australia that collect or hold personal information in Australia.
Given the rapid proliferation of mobile devices in the enterprise, it's vital to ensure that your organization's mobile devices are NDB compliant – just as your personal computers and servers are. Penalties under NDB can reach $2.1 million for failure to comply.
Zimperium, a global leader in enterprise mobile threat defense (MTD) and a leading provider of real-time, on-device protection against known and unknown mobile threats, is hosting a free webinar on May 29, 2019 at 10:00 a.m. CT (15:00 GMT). The webinar addresses how to immediately meet the mobile mandates of Australia's Notifiable Data Breach (NDB) with the Zimperium Platform.
NDB Compliance for Mobile Devices
JT Keating, Vice President of Product Strategy, will lead NDB Compliance for Mobile Devices – The 60% of Endpoints Often Unprotected and answer questions.In addition, Keating will provide actionable insights into the specific mobile compliance requirements and information on how and why:
Mobile devices are endpoints under NDB;
You must protect the 60% of your organization's endpoints (mobile devices) and the already protected 40% (personal computers and servers);
You need on-device, rather than cloud-based, protection to protect mobile devices;
Only machine learning-based technology can keep up with evolving threats; and
You must protect mobile devices against Device, Network, Application and Phishing attacks.
Companies in highly-regulated industries must protect mobile devices because it is legally required. However, just checking the compliance box isn't enough. Fact is, attacks are evolving so fast that compliance laws can't keep up. Organizations need mobile security that can protect non-public information today and in the future.
Follow Zimperium on Twitter, LinkedIn and Facebook.
The post Zimperium's Compliance Webinar Series: NDB Compliance for Mobile Devices – The 60% of Endpoints Often Unprotected appeared first on Zimperium Mobile Security Blog.
Article Link: https://blog.zimperium.com/zimperiums-compliance-webinar-series-ndb-compliance-mobile-devices-60-endpoints-often-unprotected/