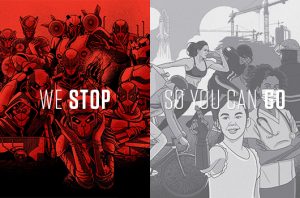 In March 2020, at the beginning of the U.S. response to the worldwide COVID-19 pandemic, I expressed my gratitude for the healthcare workers and other first responders who put themselves at risk to ensure the health and safety of us all during these unprecedented, challenging times. This gratitude is shared by all CrowdStrike® team members, who remain committed to our customers' security as the driving force behind all we do. Our new brand campaign reflects that commitment: "We stop. So you can go."
I'm extremely proud of this new campaign, which shows CrowdStrike and our customers as both champions and enablers. The video brings to life that by doing our job of stopping breaches, we help our customers go forward and advance their important work, so they can elevate their impact in their respective fields of endeavor — from educating our youth to expanding the boundaries of science, space, technology, healthcare and more. It also pays particular homage to our customers that are engaged in the important work of alleviating human suffering and providing the support we all need to get our people, communities and economies back on track.
This comes at a time when our impact as an enabler and protector has never been more important. A recent quote from one of our Global 2000 customers really sums this up. This customer is in an industry that has been highly affected by the COVID outbreak and the vast changes it brought to the business and consumer markets they serve. "Our adversaries will be more motivated than ever to harm us now, when they think we may not be paying attention. We simply cannot afford to have an intrusion — and CrowdStrike is the most effective, most capable technology any of us have ever used or seen. It's the linchpin of our security program."
Remote Work Is Here to Stay
Even with today's challenging macroeconomic backdrop, customers have continued to prioritize cybersecurity investments, including those in industries most impacted by shelter-in-place orders, such as airlines and hospitality. CIOs and CISOs are looking for a strategic cybersecurity partner to help them easily accommodate a remote workforce, simplify their operations, bridge the skills gap and reduce cost.
Our commitment to our customers and our ability to back it up with technology and expertise has only gotten stronger, and their gratitude continually strengthens our resolve during these challenging times. This feedback from the CTO of a six-state non-profit healthcare system is both gratifying and humbling: "Big thanks to CrowdStrike and the OverWatch team for having our backs during this latest activity. Please pass along the kind words of our CEO and CFO to your folks, as well as my appreciation for helping us avert a cyber incident during a hugely trying time for our healthcare system."
The pandemic accelerated the digital transformation that was already underway, and we believe it will continue — the transition to a more flexible, remote workforce will endure long after this crisis has abated. CrowdStrike's ability to protect workloads, regardless of where they are, will be key. Our paramount objective remains the same: to provide mission-critical support that keeps our customers protected so they can conduct business anywhere in the world securely.
Fast Action by CrowdStrike and Customers
As soon as the lockdowns began across the U.S. and our global offices, we directed all CrowdStrike employees to work from home, eliminate unnecessary travel and abide by local and federal guidelines for slowing the spread of the virus. At the same time, we wanted to help our customers move to a remote workforce environment rapidly, while retaining the same level of productivity and security that they would have in an office setting.
Since the majority of our own workforce was already working remotely, we had the infrastructure in place to easily and quickly transition to a 100% remote workforce. However, this was not true for many of our customers who had to rapidly shift their employees from corporate offices to remote, home-based work environments — many of them had to provide thousands of new company-owned devices to their employees, or provision them to work from home on personal devices.
To help our customers secure their newly remote workers, we launched two programs right away. For customers who had to quickly provide and protect a large number of laptops issued to their employees, we offered a free burst licensing program to allow them to secure up to 10,000 additional laptops at no charge. Secondly, we introduced Falcon PreventTM for Home Use, allowing organizations to secure employee-owned Windows devices connected remotely to the organization's network.
Because the CrowdStrike Falcon® platform was built "in the cloud, for the cloud," these transitions went smoothly. Instead of taking days or weeks to deploy security across their newly remote workforce, most customers were able to get up and running and fully protected within a matter of hours.
Threat Actors Are Taking Advantage of the Crisis
The COVID-19 pandemic has created a breeding ground for cybercrime over the past few months, and CrowdStrike Intelligence analysts and Falcon OverWatchTM threat hunters have witnessed one of the most active threat environments we have ever seen. This situation is heightened for healthcare and frontline organizations as they contend with increased remote workers, limited staff and additional patient care needs.
The CrowdStrike Intelligence team has been publishing weekly COVID-19 updates detailing some of these observed threats. As an important component of our continuously updated Cybersecurity and COVID-19 Resource Center, it's another way we are actively working to keep our customers up to date on adversary activities and how the CrowdStrike Falcon platform blocks them. In addition, our Tech Center is supplying more frequent instructional videos that show customers how to take full advantage of the powerful protection the Falcon platform offers.
We are proud to enable our customers to stay ahead of even the most sophisticated threats, whether they are at home, in the office or in the cloud. As our new ad says: "To those who never stop, we've got you. We stop. So you can go."
Additional Resources
The post We Stop. So You Can Go. appeared first on .
Article Link: https://www.crowdstrike.com/blog/we-stop-so-you-can-go/