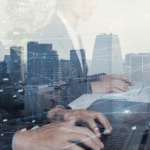 With no remedy in sight to the cybersecurity talent shortage, organizations must be creative, determined, and mobilized. Rather than focusing on what the organization doesn't have, cybersecurity professionals must instead get optimal performance from the resources they have ready and available. Through advanced cybersecurity technologies, all security teams can respond quickly and effectively to threats, reducing their time-to-detection and time-to-remediation despite being shorthanded.
The Risks of Being Short Staffed
From languishing malware alerts to prolonged DDoS attacks, the cybersecurity talent shortage makes it difficult for experts to spot risks and respond to attacks effectively. Attacks are too often simply missed amid the mountain of alerts as cybersecurity professionals find themselves stretched thin. All of this leads to a need to prioritize issues and deal with them one at a time, always battling new incidences and never quite getting ahead of them.
When organizations are short on staff, successful attacks don't just get through defenses more frequently, they also go on for longer. Ultimately, this impacts the organization's brand reputation, financial performance, customer loyalty, and more, as the longer an attack lasts, the more damage occurs. Organizations can find themselves continuously in reactive mode, playing "keep up" and putting out new fires, unable to ever get ahead and focus on proactively managing security and the business as a whole. Organizations short on staff are not able to efficiently protect themselves against attacks and are not able to spend the time required to learn about new threats that may arise.
Technology Can Fill In the Cybersecurity Talent Gap
When you can't hire new staff, what do you do? You augment your existing staff with the tools that they need to get the job done faster. Many of the solutions available today can reduce the overall work that a cybersecurity expert needs to do, and the level of skills and experience needed. By automating tasks where possible, analyzing and prioritizing events, and consolidating isolated alerts into a single incident, technology can enable junior level security analysts to be as effective and productive as those with far more experience. Malware detection and incident response tools, for example, can perform repetitive actions and catch (and in some cases respond to) many threats, ultimately reducing the security team's workload.
An advanced breach protection solution can help by:
Identifying the signs of a multi-pronged attack. These solutions can use event correlation and machine learning to identify relationships between what appear to be unrelated events, tying them into a single, sophisticated attack. Without this technology, analysts may find themselves trying to track down individual alerts. Without cutting to the source of the problem, this will ultimately just lead to further issues they need to resolve. By identifying all facets of each attack, the organization is able to cut down their time-to-remediation.
Creating blueprints of an attack. Malware solutions can now give experts a clear view of what is happening across their infrastructure, rather than leaving them to piece together the raw data. Where it would once take multiple employees a significant amount of time to track down the behavior and relevant characteristics of an attack, a single cybersecurity professional can find all of the information they need about a network breach at-a-glance. This improves response time and effectiveness, making it easier for cybersecurity professionals to both identify and completely resolve incidents.
Reducing the number of false positives. Advanced malware analysis products can reduce the number of false positives, so experts do not waste their time chasing irrelevant alerts. In the past, more rudimentary malware detection programs had to err on the side of caution, flagging systems that were only slightly suspicious, or anomalous activity that was indeed benign. When security teams are fully staffed, this task can still be achieved (although it's still an inefficient use of resources). When resources are limited, on the other hand, it becomes more important to raise the alarm only for truly malicious incidents.
Integrating with other security technologies. Modern breach protection products offer robust integration with other solutions, allowing them to work together seamlessly, reduce redundancies, and compile accurate data. Rather than having to move between systems, sync data, and check data for internal consistency, cybersecurity experts can do what they do best: secure the organization's network.
Helping New Cybersecurity Professionals Get Up-to-Speed
In order to cope with the shortage of cybersecurity talent pool, many organizations are either hiring individuals without a cybersecurity background or relocating people from other departments and simply training them. These individuals may not be adequately prepared for the advanced level of malicious programs and threats that they will be required to combat.
Fortunately, by using the latest network breach protection solutions, entry-level cybersecurity personnel can operate at a more advanced level, offloading much of the work from the seasoned experts. Veterans will spend less time training their less experienced team members, and personnel can be pulled more easily from other departments. New cybersecurity technologies provide the full insight into and context for an attack, arming entry level security analysts with the specific details about the attack needed to quickly and completely remediate the breach.
It will be years (if ever) before there is enough talent to meet demand. As a result, organizations need to rely on the best technology to help mitigate today's threats. Organizations with a long-term view may begin training employees from other departments or recruiting from the entry-level talent pool, but given the competition for available talent, it will be hard to ever catch up. Accordingly, it ultimately is the strength of their cybersecurity technology that will carry them through.
By increasing their focus on technology, organizations can decrease cybersecurity talent concerns, refining their strategies and ensuring that their existing talent is given all of the tools they need to perform their job as efficiently and accurately as possible. If your organization is looking for a proven next-generation network breach protection solution, please consider Lastline.
The post Tips for Coping With the Cybersecurity Talent Shortage appeared first on Lastline.
Article Link: https://www.lastline.com/blog/cybersecurity-talent-shortage/