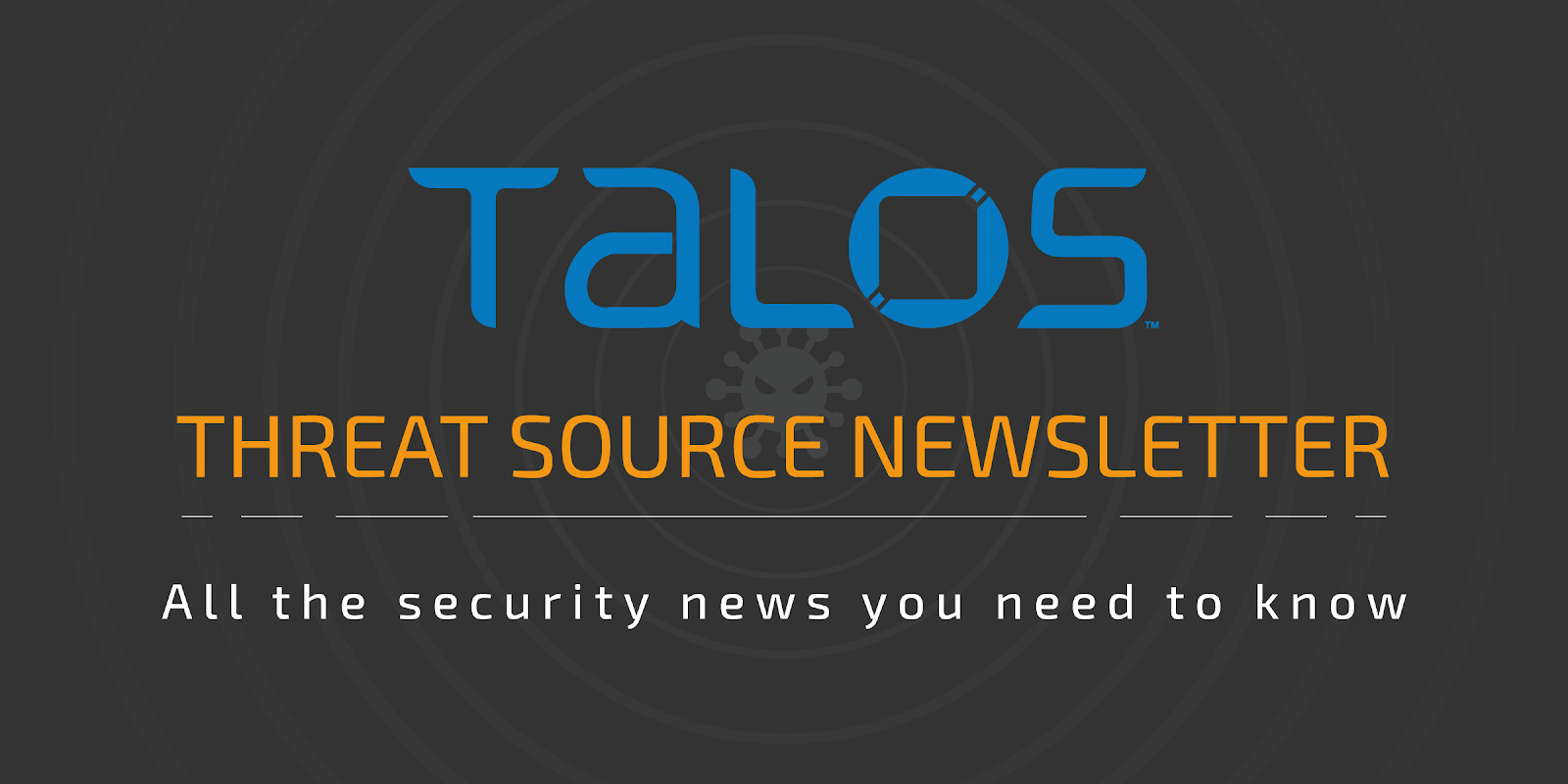 Newsletter compiled by Jon Munshaw.

Welcome to this week's Threat Source newsletter — the perfect place to get caught up on all things Talos from the past week.

Sure, all anyone wants to talk about is coronavirus. But what about cyber security? We've still got cool stuff, like this huge write-up on the Bisonal malware and how it's changed over the past 10 years. While its victimology has always stayed the same, we walk through how its creators have added on new features over time to avoid detection.

There's also another entry in our Incident Response "Stories from the Field" video series. This time, Matt Aubert discusses ransomware infections he's seen in the wild and passes on some lessons to you.

And, as always, we have the latest Threat Roundup where we go through the top threats we saw — and blocked — over the past week.

Upcoming public engagements
Event: 
"Everyone's Advanced Now: The evolution of actors on the threat landscape" at 
Interop Tokyo 2020
Location: 
Makuhari Messe, Tokyo, Japan
Date: 
April 13 - 15
Speakers: 
Nick Biasini
Synopsis: 
In the past, there were two clear classes of adversary an enterprise would face: sophisticated and basic. These basic threats were commodity infections that would require simple triage and remediation. Today, these commodity infections can quickly turn into enterprise-crippling ransomware attacks, costing organizations millions of dollars to recover. Now more than ever, organizations need every advantage they can get — and threat intelligence is a big part of it. Having visibility into your own environment and attacks around the globe are equally vital to success. This talk will cover these trends and show how the gap between the sophisticated and the basic adversary is quickly disappearing.
Cyber Security Week in Review
Notable recent security issues
Title:
Details of new Mozart malware family unveiled
Description:
A new malware family known as "Mozart" uses DNS to communicate with a command and control seemingly belonging to its creators. It also evades detection by disguising itself and executing specialized JSScript files. Once infected, Mozart can download other types of malware onto the victim machine, including ransomware and cryptocurrency miners. This malware is typically spread through spam campaigns with malicious PDF attachments. If a victim opens the PDF, it displays a message saying that the PDF reader doesn't support a specific font, and asks the user to download a font, which actually points to a malicious ZIP file.
Snort SIDs:
53364 - 53373
Title:
Ryuk ransomware strikes across the globe
Description:
Several reports surfaced over the past week of the Ryuk ransomware being used in attacks over the course of the past year. Notable recent infections include an attack on a Fortune 500 company that specializes in mechanical and electrical construction, a local library system and police department in Florida and a school district in New Mexico. Ryuk primarily spreads through phishing emails and contains a number of capabilities, including credential theft and the downloading of a cryptocurrency miner. 
Snort SIDs:
53333, 53334, 53336, 53337
Most prevalent malware files this week

Article Link: http://feedproxy.google.com/~r/feedburner/Talos/~3/uyncaxLCcZE/threat-source-newsletter-march-5-2020.html