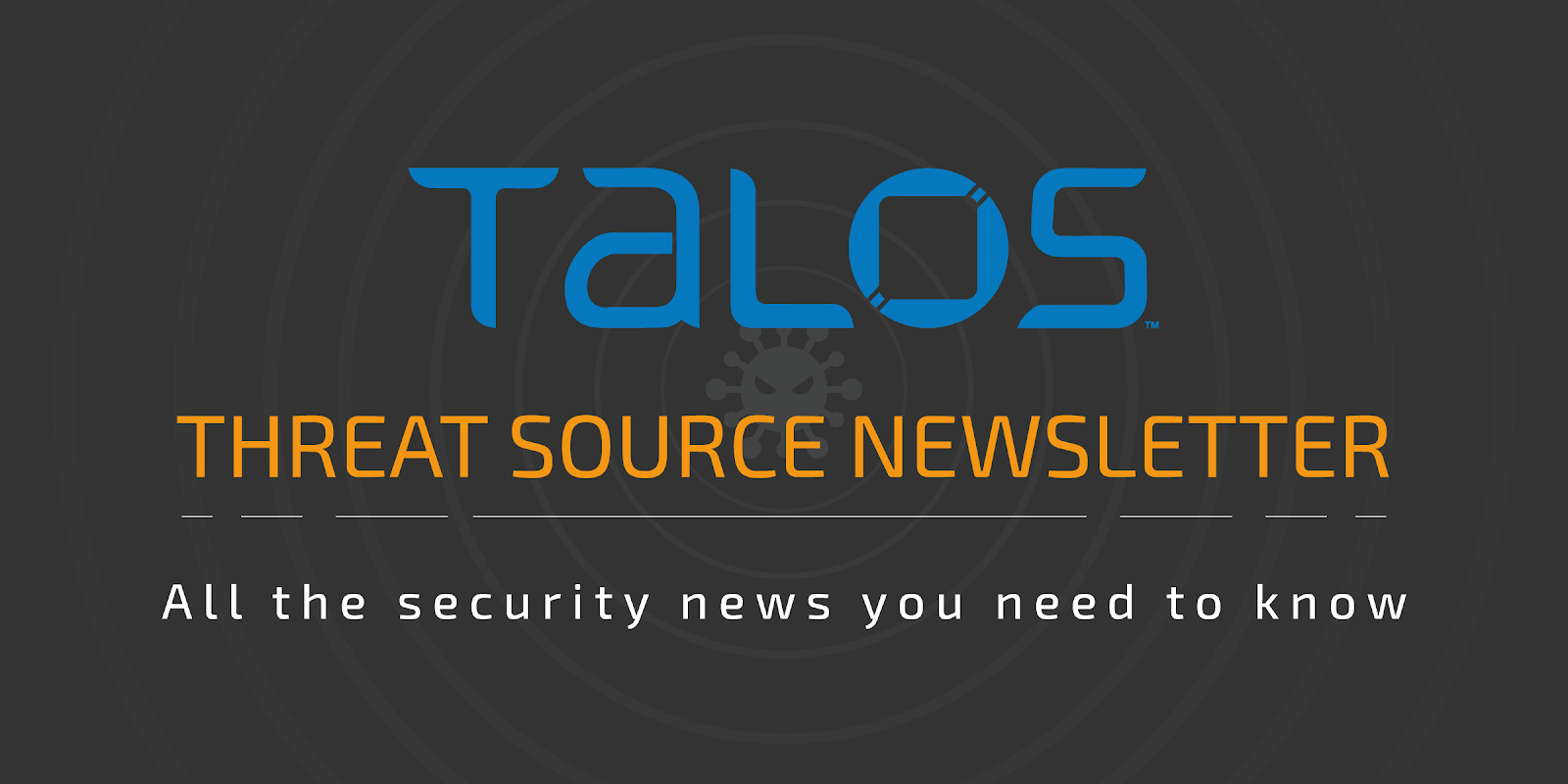 Welcome to this week's Threat Source newsletter — the perfect place to get caught up on all things Talos from the past week.
If you haven't yet, there's still time to
register for this year's Talos Threat Research Summit
— our second annual conference by defenders, for defenders. This year's Summit will take place on June 9 in San Diego — the same day Cisco Live kicks off in the same city. We sold out last year, so hurry to register!
Finally, we also have our
weekly Threat Roundup
, which you can find on the blog every Friday afternoon. There, we go over the most prominent threats we've seen (and blocked) over the past week.
Upcoming public engagements with Talos
Location: Salt Lake City, Utah
Date: April 25
Speaker: Nick Biasini
Synopsis: Join Nick Biasini as he takes part in a day-long education event on all things Cisco. Nick will be specifically highlighting the work that Talos does as one part of the many breakout sessions offered at Cisco Connect. This session will cover a brief overview of what Talos does and how we operate. Additionally, he'll discuss the threats that are top-of-mind for our researchers and the trends that you, as defenders, should be most concerned about.  
Cyber Security Week in Review
Notable recent security issues
Description: Microsoft recently discovered a serious vulnerability in Huawei's PCManager that could allow attackers to alter the Windows 10 kernel in Huawei's line of MateBook machines. The Chinese tech company patched the bug in January, but it was just disclosed last week. An attacker could exploit this vulnerability by tricking the user into running a malicious application.
Description: Cisco released a slew of patches last week to fix 24 vulnerabilities in its IOS operating system. The company also warned customers that two routers in its RV line are open to attack, and no fix is available as of yet. Fifteen of the bugs exist on IOS XE, which runs on Cisco networking gear such as switches, routers and controllers.
Most prevalent malware files this week
MD5: a7608ce0baea081df610eb9accb4400e
Typical Filename: 
emotet_e1_d98edcaf8acdd135b38ad5d6ce503e59868555f5acb6aaa95017ec758a6603ac_2019-03-26__175503.exe_
Claimed Product: Advanced PDF Converter
Detection Name: W32.d98edcaf8a.Malspam.MRT.Talos
MD5: 97911a1da380f874393cf15982c6b1b9
Typical Filename: spoolsv.exe
Claimed Product: Microsoft® Windows® Operating System
Detection Name: W32.GenericKD:Trojan.22co.1201
MD5: 47b97de62ae8b2b927542aa5d7f3c858
Typical Filename: qmreportupload.exe
Claimed Product: qmreportupload
Detection Name: Win.Trojan.Generic::in10.talos
MD5: 4cf6cc9fafde5d516be35f73615d3f00
Typical Filename: max.exe
Claimed Product: 易语言程序
Detection Name: Win.Dropper.Armadillo::1201
MD5: b89b37a90d0a080c34bbba0d53bd66df
Typical Filename: u.exe
Claimed Product: Orgs ps
Detection Name: W32.GenericKD:Trojangen.22ek.1201
Top spams stats for this week
Top 5 spam subjects observed
"Microsoft account team"
"Award Information."
"3-D Secure"
"Re: Action Required: You failed our monthly validity check."
"ATTENTION: FUND BENEFICIARY 191.98.183.155"
Top 5 most used ASNs for sending spam
8075 Microsoft Corporation
20792 VISTEC Internet Service GmbH
15169 Google LLC
1832 Southern Methodist University
46664 VolumeDrive

Article Link: http://feedproxy.google.com/~r/feedburner/Talos/~3/-h-7XAOQbG4/threat-source-april-4.html