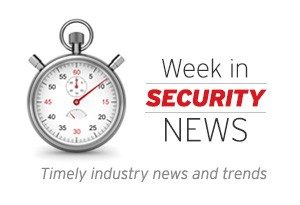 Welcome to our weekly roundup, where we share what you need to know about the cybersecurity news and events that happened over the past few days. This week, learn about a new Internet of Things malware that's bricked thousands of devices. Also, read about a ransomware family that's using malvertising to direct victims to a RIG exploit kit.
Read on:
Shadowgate Returns to Worldwide Operations with Evolved Greenflash Sundown Exploit Kit
After almost two years of sporadic restricted activity, the ShadowGate campaign has started delivering cryptocurrency miners with a newly upgraded version of the Greenflash Sundown exploit kit, which has been spotted targeting global victims after primarily operating in Asia. 
Silex Malware Bricks IoT Devices with Weak Passwords
A new Internet of Things malware called Silex only operated for about a day, though it has already managed to quickly spread and wipe devices' firmware, bricking thousands of IoT devices. 
Top Takeaways from AWS Security Chief Stephen Schmidt at re:Inforce 2019
Steven Schmidt's keynote address at AWS re:Inforce touched on the current state of cloud security, building a security culture, tactical security tips and a road map of where the industry and technology are headed. 
AWS re:Inforce Warm-Up Episode
Mark Nunnikhoven gives key predictions and insights into trends at AWS re:Inforce, security in the top three major public cloud providers and the evolution of the cloud industry as a whole. 
Dell Urges Millions of Users to Patch Vulnerability in SupportAssist Tool
Dell released a security advisory that implored customers to update the vulnerable SupportAssist application in both business and home machines. The privilege escalation vulnerability can give hackers access to sensitive information and control over millions of Dell computers running Windows.
HTTPS Protocol Now Used in 58% of Phishing Websites
According to the Q1 2019 report from the Anti-Phishing Working Group (APWG), the Hypertext Transfer Protocol Secure (HTTPS) protocol tactic has been on the rise in phishing attacks, now used in 58% of phishing websites.  
Federal Cybersecurity Defenses are Critical Failures, Senate Report Warns
A 10-month review of 10 years of inspector general reports revealed that several Federal agencies responsible for safeguarding millions of Americans' security, public safety and personal data have failed to apply even basic defenses to cyberattacks.
Kubernetes Vulnerability CVE-2019-11246 Discovered Due to Incomplete Updates from a Previous Flaw
Kubernetes announced the discovery of a high-severity vulnerability that, if exploited, could lead to a directory traversal that allows an attacker to use a malicious container to create or replace files in a user's workstation. 
The IIoT Attack Surface: Threats and Security Solutions
Many manufacturing factories and energy plants have hundreds of IIoT devices that help streamline operations, but those facilities now also have to defend against new threats that take advantage of attack vectors and weaknesses in the technology. 
Facebook's Bid to Quash Data Breach Lawsuit Dismissed by Judge
Facebook has failed in its attempt to prevent a lawsuit over a data breach impacting close to 30 million users from going to trial. A federal appeals court in San Francisco rejected the social media giant's request to dismiss the court case out of hand.
Sodinokibi Ransomware Group Adds Malvertising as Delivery Technique
Attackers behind a ransomware family called Sodinokibi have used a variety of delivery vectors since April: malicious spam, vulnerable servers, managed server providers (MSPs) and now malvertising. The malicious advertisements were on the PopCash ad network, and certain conditions would redirect users to the RIG exploit kit. 
CVE-2019-8635: Double Free Vulnerability in Apple macOS Lets Attackers Escalate System Privileges and Execute Arbitrary Code
Trend Micro discovered and disclosed a double free vulnerability in macOS that, if successfully exploited, can allow an attacker to implement privilege escalation and execute malicious code on the system with root privileges.
Using Whitelisting to Remediate an RCE Vulnerability (CVE-2019-2729) in Oracle WebLogic
Trend Micro took a closer look at Oracle's recent vulnerability CVE-2019-2729 to see how this class of vulnerability has been remediated — particularly via blacklisting or whitelisting — and why it has become a recurring security issue.
95,000 Delawareans Impacted in Data Breach that Lasted Nearly Nine Years
The personal data of roughly 95,000 Delawareans may have been compromised in a nine-year security breach at Dominion National, a large vision and dental insurer, according to Delaware's Department of Insurance.
Do you feel that the IoT devices in your home are well-protected against cyberattacks? Share your thoughts in the comments below or follow me on Twitter to continue the conversation: @JonLClay. 
The post This Week in Security News: Malvertising and Internet of Things Malware appeared first on .
Article Link: https://blog.trendmicro.com/weekinsecurityiotmalware/