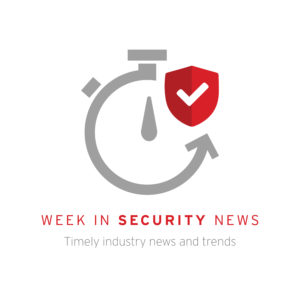 Welcome to our weekly roundup, where we share what you need to know about the cybersecurity news and events that happened over the past few days. This week, the Council of the European Union reviewed a bill dubbed the "ePrivacy" Regulation, which targets message-sharing services like WhatsApp and Skype. Also, a failed Georgian cybersecurity bill gives a glimpse into the future of cybersecurity laws in the U.S.
Read on to learn more.
The Cybersecurity 202: White House Cybersecurity Report Shows Federal Agencies Still Struggling to Get Secure
Dozens of federal agencies have cybersecurity programs that aren't properly equipped to deal with cyber intrusions in their networks, according to a new report released by the White House.
Emerging 5G Technology Could Compromise SIM Card-Dependent IoT Devices on Massive Scale
Already, current cellular network technologies such as 3G and 4G allow fast wireless communication. But the next evolution, 5G, is set to afford even faster connections along with greater reliability.
Trojan MnuBot Leverages Microsoft SQL For Evasion, Targets Brazilian Banks
A recently discovered malware named MnuBot functions as a remote access trojan (RAT) and uses Microsoft SQL server database as command and control (C&C) server.
Over 5K Gas Station Tank Gauges Sit Exposed on the Public Net
One gas station failed its PCI compliance test due to security holes in its automated gas tank gauge configuration, researcher says.
Russia-Linked Hacker Gets 5 Years in Yahoo Security Breach
A hacker who worked for a Russian spy agency was sentenced to five years in prison for using data stolen in a massive Yahoo data breach to gain access to private emails.
Cybersecurity: Fresh Challenges Breed New Companies, Opportunities
The WannaCry cybersecurity attack in May, 2017, targeted tens of thousands of computers scattered across more than 70 countries. The attackers, thought to a be a group located in North Korea, demanded ransom fees in bitcoin. They promised to unfreeze computers in return.
Android Devices Found Preinstalled With Adware Cosiloon
Thousands of Android devices owned by users in over 100 countries, including the U.S., Russia, Germany, the U.K., Greece, France, and Venezuela, have been found preinstalled with the adware Cosiloon.
GDPR was Just the Beginning – The Next Big Fight in Data Protection is "ePrivacy."
The GDPR is in full effect, and the next legal battle over data protection in Europe is here: the fight for "ePrivacy" Regulation.
Identifying Top Vulnerabilities in Networks: Old Vulnerabilities, IoT Botnets, Wireless Connection Exploits
Using our IoT Smart Checker, a tool that scans networks for potential security risks, we looked into home and other small network environments and the vulnerabilities that connected devices usually encounter.
What Georgia's Failed 'Hack Back' Bill Says About the Future of Cybersecurity Laws
Not long after Atlanta disclosed a citywide ransomware attack, the state government proposed a cybercrimes bill that was met with security industry criticism.
Cryptocurrency Mining: Abuse of System Resources
Cryptocurrency mining attacks have begun to take hold, and experts predict that they won't stall anytime soon – on the other hand, cybercriminals may only increase this abuse of resources.
What do you think of the new "ePrivacy" Regulation? Share your thoughts in the comments below or follow me on Twitter to continue the conversation: @JonLClay.
The post This Week in Security News: ePrivacy and Hack Back appeared first on .
Article Link: https://blog.trendmicro.com/this-week-in-security-news-eprivacy-and-hack-back/