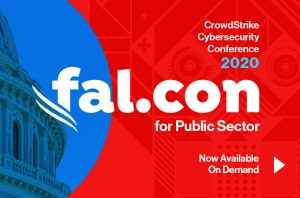 The CrowdStrike® 2020 Fal.Con for Public Sector Virtual Cybersecurity Conference was held on June 24 — the second year for this one-day event and the first year it was a completely digital experience. More than 1,000 security professionals attended an exciting array of keynote addresses, breakout sessions and partner tech talks that were streamed online throughout the day. I'm excited to let you know that if you weren't able to attend, or you want to revisit a talk or session you found especially interesting, the entire event is now available on demand.
The event was held online as a result of the current pandemic, which inspired a focus on the challenges organizations are facing as they rapidly transition to a remote workforce. Leaders from across the public sector joined CrowdStrike experts to offer their insights and recommendations for how public sector entities can best protect their networks and data as they adjust to a new set of working conditions.
The Trend Toward Anytime, Anywhere Work Will Continue
There is broad consensus across all industries that the trend of enabling a larger remote workforce will continue long after the pandemic crises subsides. That's one of the many reasons why the information shared at this conference is so valuable. Attendees included cybersecurity professionals from a wide range of public sector entities, including federal, state and local governments, educational institutions, healthcare organizations and more.
Securing the valuable data and processes that public sector entities are mandated to protect was a key theme throughout the day, with many speakers encouraging organizations to adopt flexible, cloud-based solutions that can meet the challenges of protecting remote workers at scale. Experts also highlighted how sophisticated adversaries are leveraging the pandemic to launch attacks that prey on people's COVID-19 fears, and they explained how public sector organizations can mitigate these threats by implementing a robust and resilient cybersecurity strategy.
Conference Highlights
By registering for the conference online, you can watch all of the keynotes, sessions and partner tech talks on demand. The following are descriptions of some of the keynotes, panel discussions and partner tech talks from the conference, as well as links to news coverage of this event. For a full list, read this blog.
Keynotes
Crisis Management During Challenging Times
Shawn Henry, CrowdStrike CSO and President, CrowdStrike Services, explains how both the government and private sector can collaborate to protect our enterprises, elections and economy and disrupt the overwhelming threats we face in our digital world.
State of the Threat: A Global Intelligence Perspective
CrowdStrike SVP of Intelligence Adam Meyers discusses how adversaries are leveraging the pandemic crisis to launch damaging attacks, including how hackers spoof government relief packages and other tactics. Read news coverage of this keynote.
The State of Cybersecurity During COVID-19
CISA Assistant Director for Cybersecurity Bryan Ware discusses how the U.S. Cybersecurity and Infrastructure Agency (CISA) came to be and why its mission is especially vital during the pandemic crisis. Read news coverage of this keynote.
The Quest for Cyber Resilience in the Face of Adversity
Quiessence Phillips, Deputy CISO and Head of Threat Management, City of New York, offers guidance on how state and local governments can increase their cybersecurity readiness and protect against threats, particularly in times of crisis.
Panel Discussions
COVID-19: How the Global Pandemic Changed Cybersecurity and the World Forever
This seasoned panel of government and industry experts discusses the challenges organizations have faced in rapidly enabling remote working and how adversaries are leveraging the crisis with new attacks. They also offer best practices and explore methods for securing emerging new threat vectors. Panel members include Adam Hickey, Deputy Assistant Attorney General, NSD, DOJ; Tonya Ugoretz, Deputy Assistant Director, Cyber Division, FBI; and Ervan Rodgers, CIO and Assistant Director, State of Ohio. Read news coverage of this panel discussion here and here.
Protecting Our Nation's Election Infrastructure in 2020
This panel of experts discusses how COVID-19 has changed the game for election officials around the U.S. and recommends ways to strengthen security ahead of the 2020 elections. Panel members include Maurice Turner, Sr. Advisor to the Executive Director, U.S. Election Assistance Commission; Matt Masterson, Cybersecurity Advisor, CISA; and Maria Barsallo Lynch, Executive Director, Defending Digital Democracy Project (D3P), Harvard's Belfer Center. Read news coverage of this panel discussion.
Working Smarter: Leverage AI to Make Informed Decisions
Chief Innovation Officer for the Air Force Lauren Knausenberger joins CrowdStrike CTO Mike Sentonas to discuss how governments can take advantage of their vast data sets with new breakthroughs in artificial intelligence (AI) that can help enable decision-making at unprecedented speeds. Read news coverage of this panel discussion.
Additional Panel Discussions
Under Siege: How Local Governments Can Avoid the Ransomware Outbreak
Supply Chain Security: It Only Takes One Weak Link
Future of Education: Building the Optimal Student Experience Safely and Securely
The Inevitable Cloud Migration: A Critical Enabler for Endpoint Security in Government Agencies
Tech Talks with CrowdStrike Partners
AWS: Secure Digital Transformation for Elections
Dragos: Public Sector Industrial Environments: Understanding Ransomware Impacts
Netskope: SASE Says "Farewell to Network Security as We Know It"
Proofpoint: Protecting People, Your Agency's New Perimeter
RiskIQ: 360 Degrees of Attack Surface Visibility
Zscaler: Modernizing Security from the Endpoint to the App for a Zero-Trust Architecture Solution
Watch the Conference Presentations at Your Own Pace
I hope you will take this opportunity to increase your knowledge and gain valuable insights by watching the entire conference on demand, anytime and anywhere to fit your schedule. The information presented will help you optimize your organization's security posture and defend against today's most sophisticated cyber adversaries. Register and watch the on-demand conference by visiting the Fal.Con for Public Sector registration page and completing the form.
Additional Resources
The post The Fal.Con for Public Sector Conference Is On Demand With Recommendations for Securing Your Remote Workforce appeared first on .
Article Link: https://www.crowdstrike.com/blog/2020-fal-con-for-public-sector-recap/