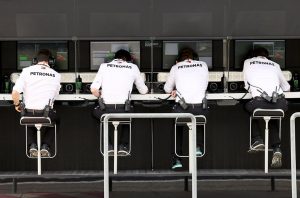 In the split-second world of Formula One, what happens during a pit stop can make or break a race. Consider the precise choreography involved: The "wheel gunner" follows the car to its spot, removes the wheel nut, then tightens it again as soon as the replacement wheel is presented, ideally within seconds. Any deviation from plan — such as a driver not landing on their mark — generally results in diminished performance.
The pit stop is an example of a highly trained, honed and deterministic act of coordination. But it is perhaps not an apt metaphor for teamwork because true teamwork relies on collaboration, not coordination, to create a synergy that takes a non-deterministic path to success. Like the elite teams that reach success in the unforgiving world of F1, cybersecurity professionals know that success against determined adversaries is seldom won on the basis of individual effort. It also requires closely coordinated teamwork capable of not only executing precise predetermined actions, but also able to make fast and accurate decisions based on highly complex and dynamic data.
A better metaphor for teamwork in the racing world is the pit wall — the trackside row of racing team staff seated at computers watching real-time data streams from car sensors and making strategic decisions with eyes on crossing the finish line first. Screens of data are less visually climactic than a pit crew in full flight, but the unsung heroes of racing can be found on the pit wall — and the pit wall team of the Mercedes-AMG Petronas Formula One Team is among the finest examples of teamwork anywhere.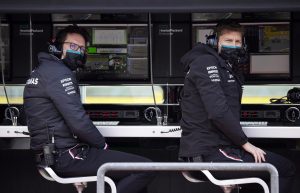 Mercedes F1 Team Trackside Engineering Director Andrew Shovlin, left, and Motorsport Strategy Director James Vowles look on from the pit wall at the 2021 Emilia Romagna Grand Prix. (Photo by Steve Etherington)
Another fine example is the CrowdStrike Falcon Complete

managed detection and response (MDR) team of experts, who, like a pit wall team, monitor real-time data — in our case to help our customers, including the Mercedes F1 Team, make finely timed strategic cybersecurity decisions. 
Looking Back to Barcelona — and Ahead to Monaco  
The strategy calls made by Motorsport Strategy Director James Vowles, Head of Race Strategy Rosie Wait and others on the Mercedes F1 Team — coupled with F1 Driver Lewis Hamilton's extraordinary driving skill — made all the difference at the 2021 Spanish Grand Prix in Barcelona, and may well again at the 2021 Monaco Grand Prix.
The 2021 Spanish Grand Prix was a master class in strategy and brinkmanship. Like Monaco, Barcelona is not a track known for its overtaking opportunities, and more often than not the driver on the front row at the start of the race goes on to win it. Lewis had the pole position advantage in Spain, but lost it on turn one with a bold move by Red Bull driver Max Verstappen.
This change of fortunes was not part of the plan, and the Mercedes F1 Team strategists quickly had to adapt their thinking.
An F1 car is the ultimate endpoint and IoT device, with 300 sensors providing data to a carefully organized team of engineers onsite at the race and offsite at race control in the UK. Carefully curated situational data is fed to the strategists on the pit wall. Speed is of the essence, trust is key, and the team, backed by two talented drivers, must exhibit the skills to collectively problem solve and make the big decisions.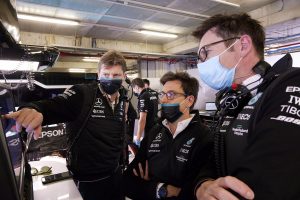 Mercedes F1 Team members, from left, Motorsport Strategy Director James Vowles, Team Principal and CEO Toto Wolff and Trackside Engineering Director Andrew Shovlin discuss race strategy during the 2021 Portuguese Grand Prix. (Photo by Steve Etherington)
In contrast to Red Bull, which opted for a one-pit-stop race, the Mercedes F1 Team opted for a two-stop strategy, leaving Hamilton with 23 laps to close a 22-second deficit and pass Verstappen. He did it with six laps to spare. It was a repeat of Hamilton's victory over Verstappen in Hungary two years ago with teamwork writ large. (You can catch the 2021 Spanish Grand Prix highlights here.) 
It's exactly this kind of exemplary teamwork that we at CrowdStrike find so inspiring as we pursue our mission to stop breaches.

CrowdStrike Falcon Complete: Teamwork and "The Power of We"
In 2019, CrowdStrike coined the 1-10-60 rule: 1-minute to detect a breach, 10-minutes to investigate it and 60-minutes to remediate the situation. The key here is that speed and teamwork, in cybersecurity as in F1 racing, are everything.
Much like an F1 team, CrowdStrike has a hierarchy of people working around the clock – some like a pit crew, acting procedurally on detections and investigations using specialist tools, and others like the pit wall, monitoring conditions both internal and external to the team and providing timely, strategic guidance and direction to teammates on when, where and how to do their part to ensure the win.
Depending on the customer, security teams may include CrowdStrike professionals working closely with inhouse personnel, or in the case of Falcon Complete customers, they may rely primarily on a CrowdStrike managed services team composed of seasoned security professionals with experience in incident handling, incident response, forensics, SOC analysis and IT administration. In the same way a Mercedes F1 Team race engineer might tell a driver to switch to a particular engine mode, our Falcon Complete team may direct a customer to block specific IPs on their gateway firewalls. Falcon Complete will also triage messages from CrowdStrike Intelligence (our "factory," if you will) and live telemetry from the Falcon OverWatch

team, and then instruct our analysts in the "pit crew" to make changes or activate CrowdStrike Falcon® platform features such as "network contain" to isolate threats and remediate issues for customers. It's not unlike the way the pit wall might direct an F1 pit crew to clear brake ducts or adjust a wing angle when the car comes in for a pit stop.
Trust, talent and timely communication converge to stop the breach, and it's this scalable teamwork — the "Power of We" — that drives winning outcomes time and again. 
Let us know your thoughts: https://twitter.com/CrowdStrike  
Additional Resources
The post The F1 "Pit Wall": A Better Metaphor for Teamwork appeared first on .
Article Link: The F1 "Pit Wall": A Better Metaphor for Teamwork | CrowdStrike