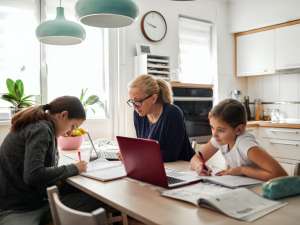 We analysed the results of our Europe-wide survey on cybersecurity, focusing on the safety of children on the Internet and how parents act in certain situations in order to prevent and address the various dangers that can arise for children.
Of the total number of respondents, 1511 people have children under the age of 18 and answered our cybersecurity-related questions.
Almost 8 out of 10 Europeans are very or fairly concerned about what their children might be doing when they go online.
Almost 2 out of 3 Europeans (64.26%) have some form of parental controls installed on the computer or mobile phone their children use.
Is cybersecurity an unfinished business for adults?
With the return to school, children and teenagers are once again immersed in the digital world, where education and entertainment are intertwined online. Although the Internet offers countless opportunities for learning and fun, it also presents dangers that can significantly affect youngsters. 
In this article, Panda Security wants to highlight the risks that children can face online and provide advice on how to protect them while exploring cyberspace, based on the results of a survey of European parents.
Things have changed a lot, children used to come with a loaf of bread under their arm, but now it could be said that they come with an electronic device. Our little ones have grown up with the Internet, while those of us who are not so little have had to learn about it "by force", as it has crept into our jobs, our homes and our children's education.
Although it is true that in the face of this situation the reaction of adults has been a little "adapt or die", it is not a bad thing to review those pending subjects that we still have in order to improve them for this new academic year that lies ahead of us.
Are we aware of the dangers that children can encounter when surfing the Internet?
From inappropriate content, to sharing personal information or suffering cyberbullying. Our little ones are just that, little, and if there is one thing that characterizes them, it is their innocence and their real ignorance of the dangers they can encounter on the Internet.
For them, the Internet is their playground and they feel safe on it, as they not only enjoy it at home to play but also use it at school to learn.  
And it is at this point that we adults come into play. You could say that our children are a football team and we are the coaches and as coaches we have the mission to guide and get the best out of our players on the pitch, i.e. on the Internet.
Nearly 8 out of 10 Europeans surveyed with children under the age of 18 are very or somewhat concerned about what their children might be doing when they go online (78.69%), while 13.50% are not very or somewhat concerned and 7.81% are not very or not at all concerned. Italy is the country whose citizens are most concerned (a lot or a fair amount) (87.72%), followed by Spain (83.63%). In Germany there is a higher percentage of respondents who are neither very or slightly concerned (23.01%) or not very or not at all concerned (15.03%).
We would like to recommend this post with some cybersecurity tips.
Cyberbullying and measures to deal with it
As we mentioned before, our children's playground is now the Internet, and hate and bullying are going digital, introducing a new term in our online dictionary: cyberbullying.
Cyberbullying consists of harassing, intimidating or humiliating another person through social networks, messaging applications or online gaming platforms.
In fact, 11% of Europeans say that their children have been cyberbullied at some point. Germany is the country with the highest percentage of respondents indicating that their children have been cyberbullied (15.95%), followed by France (11.96%), while Italian citizens are the ones who mostly deny it (73.35%). In the case of Spain, respondents indicate to a greater extent than in the other countries that they do not know if their children have been cyberbullied, and therefore cannot say for sure (23.79%).
"Talking to the person involved, going to the school to talk to the teachers, talking to the parents of the person doing the bullying or bringing the case to the attention of the authorities are some of the most common reactions of parents when they learn that their children have been cyberbullied".
In terms of the measures applied by respondents to deal with such a situation, we found different reactions.
The reaction of 38% of respondents who have children who have been cyberbullied was to talk directly to the person involved (38.15%). This was followed by talking to the teachers at school (31.21%), finding out who was behind it and talking to their parents (30.06%), leaving their child to fend for themselves (24.86%), reporting it to the police (22.54%) and ignoring the issue as it is a child or adolescent thing (3.47%). 
At the country level, the French (47.27%) and Italians (36.11%) indicate that when faced with cyberbullying they spoke directly to the person, while Germans found out who was behind it and spoke to their parents (40.38%) and in the case of Spaniards, they let their child defend him/herself alone (36.67%) or reported it to the police (36.67%).
Apart from implementing the previously mentioned measures, something we must not forget is to talk to the victim, let them know that they are not alone in this situation and provide them with the necessary solutions, such as going to psychological therapy. Cyberbullying can be very hard for our children to deal with emotionally and it is our duty to help them to move on.
Parental control tools to face up to the dangers of the Internet
It is clear that the measures we have discussed that parents apply once they are aware of the dangers on the Internet are good, but this security can be further strengthened if we use parental control tools such as those we have at Panda Security.
We offer online security solutions specifically designed to protect children in the digital age. These tools include content filtering, parental controls and online activity monitoring, which can be useful in maintaining a safe online environment.
It is crucial for parents to use parental control tools and to be aware of their children's online activities. With 9 out of 10 Europeans typically monitoring their children's online use, what if that 9 became 10 out of 10 Europeans monitoring what their children do online? Perhaps with such an increase, the volume of cyberbullying would be reduced.
In addition, ongoing education about the dangers of the Internet and how to surf safely is essential for children to make informed choices
Encourage responsible use
Something that should also be considered is the responsible use of the Internet, not only in terms of treating other Internet users with respect, but also in terms of the time children spend on the Internet. 
There are WHO studies that recommend the maximum amount of time that children should spend on the Internet, and it is important to know how to disconnect in order to connect with the outside world. 
Encouraging responsible use can be done by setting time limits and demonstrating that adults know when to use their electronic devices.
By educating children about online safety, setting boundaries and using parental control tools, we can help them make the most of the opportunities offered by technology while keeping them safe from online dangers. Together, we can create a safer and more positive online environment to accompany children on their educational journey.

The post Safety and the digital age, terms that should go hand in hand with our kids appeared first on Panda Security Mediacenter.
Article Link: Cybersecurity Survey 3 out of 5: digital protection for children