Did you miss any of this week's Palo Alto Networks action? Don't worry – we've rounded up our top news and views right here:
Upcoming Events
Take a look at upcoming events around the world. Don't forget to register through our events calendar.
Your move to the cloud, secured. Join us on September 20 for special event addressing some of your biggest cloud security challenges.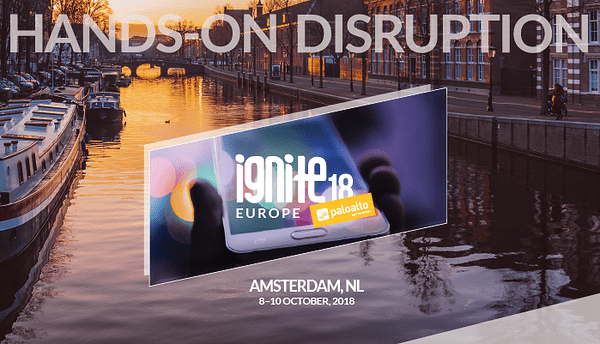 We're bringing hands-on disruption to Amsterdam! Learn more about Ignite '18 Europe.
Looking to meet up with other Palo Alto Networks users? Check out Fuel, the Palo Alto Networks User Group, for opportunities to attend hands-on workshops, events and more!
Virtual Ultimate Test Drive With the VM-Series on Microsoft Azure
Virtual Ultimate Test Drive – Network Security Management
Virtual Ultimate Test Drive – Virtualized Data Center
Your Move to the Cloud Secured
September 20, 2018
Online
The post News of the Week: August 25, 2018 appeared first on Palo Alto Networks Blog.

Article Link: http://feedproxy.google.com/~r/PaloAltoNetworks/~3/FdhBwyVt5P4/