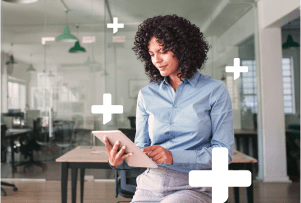 Do yourself a favor: Open a new browser tab and head to your search engine of choice. Type in your full name and home address. Then, see what pops up. 
Are the results sparking an ember of unease in the back of your brain? Whether you're a private person online or you're comfortable sharing your daily life updates on social media, there are likely to be several personal details about you on sites that shouldn't have that information. Some of these sites may be data brokerage websites.  
Data brokerage sites are legal and are mostly used by annoying advertisers, though cybercriminals may also use them maliciously. The average person has their information for sale on 31 data brokerage sites, and 95% of people have their personal information on sale without their permission. 
So how do you scrub the internet of your personal details to keep your identity secure? McAfee Personal Data Cleanup is a service that prevents your personal information from being collected and sold online. Here's why you should consider taking a few easy steps now to give you peace of mind about the security of your personally identifiable information (PII). 
Make Your Attack Surface as Small as Possible 
Attack surface is a term usually applied to corporate security, but it's a great visualization for everyday people going about their personal online errands and entertainment. An attack surface is the number of possible entry points a cybercriminal could weasel their way through to get at your valuable and private information. Entry points include your social media profiles, your online shopping accounts, and data brokerage sites. The fewer entry points you have, the harder it is for cybercriminals to find and exploit them. 
While Social Security Numbers (SSNs) are generally revered as the piece of PII to guard most closely, a cybercriminal can still damage your identity with just your name and an address, email address, or phone number. For example, they can request new passwords or multifactor authentication one-time passcodes to break their way into online banking or shopping accounts. Security breaches are happening to huge companies all over the world. All it takes is for your SSN to be leaked in one of them, for a cybercriminal to piece together your digital clone and use it to harm your identity or credit. 
Personal Data Cleanup minimizes your attack surface by removing as much PII as possible that's floating around the internet, just waiting for someone to buy it.  
Give Yourself a Blank Online Slate 
When you're aware of how many unauthorized vendors are selling your PII, it could be the wakeup call you need start adopting more cautious online habits. For instance, oversharing on social media leaks a lot of valuable details that a savvy criminal can then use to take educated guesses at your passwords or craft a social engineering plot catered just to you. 
The present is as good a time as any to start protecting your identity for the future; however, getting started is often the most difficult step. It can seem overwhelming to reach out to every data brokerage site individually and request they remove your info. Personal Data Cleanup can be your partner not only in beginning the cleanup process but in monitoring your data security to keep your online presence as minimal as possible. The service scans the internet's riskiest sites and then, before deleting your information from these sites, runs it by you to confirm. Then, it will continually monitor those same sites, as your information will likely reappear every two to four months. 
Cleaning Up Your Data Is So Easy, There's No Reason Not To 
Do not underestimate the tenacity of a cybercriminal. Even for people who have the attitude that their PII is bound to be somewhere online and that it's no big deal, McAfee Personal Data Cleanup manages three key steps in the data removal process: scanning, removing, and monitoring. So, even if you're not convinced that data brokerage sites are a threat, the process is too easy to put off any longer! 
For those who are concerned about their online privacy, full-service Personal Data Cleanup is included in McAfee+ Ultimate, which is the complete package to let you live your online life in private. McAfee+ Ultimate also includes identity monitoring and identity theft resolution services, unlimited VPN, credit lock, and much more.  
In 2021, more than 1.4 million identity theft complaints were filed to the Federal Trade Commission.1 Identity theft can occur to anyone, so take steps today, starting with data brokerage sites, to live a more secure and more private digital life. 
1Federal Trade Commission, "New Data Shows FTC Received 2.8 Million Fraud Reports from Consumers in 2021" 
The post McAfee Personal Data Cleanup: Your Partner in Living a More Private Online Life appeared first on McAfee Blog.
Article Link: McAfee Personal Data Cleanup: Your Partner in Living a More Private Online Life | McAfee Blog