Infographics designed to improve security effectiveness by raising awareness of specific malware strains and their capabilities
REDWOOD CITY, CA, April 26, 2018 – Lastline Inc., the leader in advanced network-based malware protection, announced today the launch of Maltoons

, malware cartoons designed to help media and security professionals visualize and raise awareness of malware, cybercrime tactics, and defense strategies. The program employs Lastline's expertise in advanced malware behavior towards helping potential victims visualize and remain vigilant in protecting against various strains or families of malware.
"The WannaCry and NotPetya attacks of 2017, among others, made security teams and computer users more aware of the damage that advanced malware can do," said Bert Rankin, CMO at Lastline. "Up until now, malware has been virtually invisible. We hear about it and the devastation it causes to companies and individuals alike, but it's hard to visualize. At Lastline, we know malware, and hope our Maltoons will bring malware and the threats it poses to life, increasing awareness, understanding, and security effectiveness."
Maltoons are infographics, each of which describe the capabilities and characteristics of a particular type of malware. Each provides information about where and when the malware originated, what geographical locations, operating systems or vertical industries it is currently targeting, unique capabilities, as well as more technical information, such as evasion techniques and the behaviors the malware was engineered to execute.
Lastline's initial offering consists of the first three Maltoons detailing the characteristics of three prominent malware families:
Virlock – a polymorphic ransomware known for encrypting files that famously affected healthcare providers
njRAT – the most active network malware of 2017 known for its surveillance capabilities
Loki – an information stealing malware originating in an Excel spreadsheet
Lastline has developed an infographic for each and is releasing each malware character separately, shown below. Subsequently, Lastline will launch one Maltoon a month, aiming for a campaign of sustained awareness across the wide spectrum of malware that has been unleashed globally.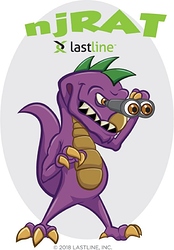 Everyone is invited to support this unique awareness campaign by sharing the Maltoons infographics and characters via social media feeds or including them in articles and blogs about the relevant malware strains. The Lastline Maltoons can be found at www.lastline.com/Maltoons.
About Lastline
Enterprise security professionals use Lastline to defend their organizations against advanced malware-based attacks that result in damaging and costly data breaches. Our solutions deliver the visibility, context and integration security teams need to rapidly detect and respond to network breaches. Guided by a dynamic blueprint of the breach unfolding within their organization, our customers achieve exceptional enterprise security using fewer resources and at a low total cost of ownership. Lastline solutions are sold directly, through an extensive channel of global partners, and are integrated into the solutions of leading security technology vendors worldwide. Lastline is privately held with headquarters in Silicon Valley. www.lastline.com
Media Contact:
[email protected]
The post 'Maltoons' Apply Lastline's Malware Expertise Towards Improving Security Education and Awareness appeared first on Lastline.
Article Link: https://www.lastline.com/press/maltoons_improve_security_awareness_and_education/