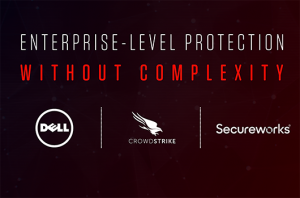 Our exciting new partnership with Dell combines CrowdStrike® Falcon® next-gen endpoint protection with Secureworks managed services to offer what Dell is calling, "the industry's most secure commercial PC ." By combining the power of the Falcon platform with Secureworks and the iconic Dell technology infrastructure, we are delivering the industry's most advanced threat detection and management — giving customers enterprise-level protection without the complexity.
Dell is calling this joint effort "Dell Safe Guard and Response." It represents a modern, unified and effective approach to tackling the evolving threat landscape by giving organizations a best-in-class commercial PC protected by the unrivaled power of the Falcon platform to prevent, detect and respond to threats and protect data with speed and simplicity. This partnership brings together three industry leaders:  Secureworks, the leader in managed security services, with Dell — one of the world's largest technology infrastructure companies — and the powerful CrowdStrike Falcon platform, offering true next-gen endpoint protection. Together, we will bring groundbreaking technology to the global market via three unique routes:
Every global business-to-business (B2B) Dell customer purchasing desktops or laptops will have the ability to add CrowdStrike through the Dell Safe Guard and Response offerings.
Secureworks will offer managed service solutions around the CrowdStrike Falcon platform and will be developing innovative integrations with their proprietary security offerings.
Dell will become a top-tier reseller of CrowdStrike solutions.
These three go-to-market offerings will not only increase the awareness and reach of each partner involved, it will deliver best-in-breed technology and managed security to thousands of organizations in one comprehensive, cost-effective and streamlined package.
A Synergistic Partnership
Why did this partnership come into being and why is it so important?  First, we all know a few things to be true about our industry:
The threat landscape has been evolving to match the speed of innovation: About 40 percent of cyberattacks today are non-malware based, giving adversaries ample opportunity to exploit vulnerabilities and bypass traditional AV and anti-malware technologies.
The connected world has enabled global economic expansion, but also opened the door for unprecedented global breaches: The lack of available cybersecurity talent — combined with a plethora of complex, disconnected solutions — have left many organizations with inadequate security resources.
The endpoint protection vendors and brands trusted for the past 20 years to protect these global innovations and organizations have become fossilized, and incapable of becoming a valid security shield for a universally connected world.
These truths were also recognized by the founders of CrowdStrike when they embarked on a mission to transform endpoint protection. But CrowdStrike hasn't been alone in our journey to revolutionize the security industry.  Many of the new endpoint challengers have been offering alternative solutions — all trying to leverage the power that our new compute world offers.  Customers like you have been leaning in, trying to see whether these new technologies would deliver on their promises. In too many cases, vendors were only delivering on the buzzwords they chose to describe their security solutions — not on the solutions themselves.
Furthering the CrowdStrike Mission: Stop Breaches
At Crowdstrike, our mission is to stop breaches and our commitment to that objective has never wavered. We marshall a full array of defense tools to protect our customers, including advanced technology with AI and machine learning, automated, contextualized threat intelligence, human threat hunting and more. The CrowdStrike Intelligence team currently tracks 116 adversary groups and in 2018, the Falcon OverWatch

threat hunting team stopped more than 30,000 breaches. We protect tens of millions of endpoints across the globe and that number is increasing daily. CrowdStrike represents best-in-class protection at hyper-scale, and our unwavering commitment to excellence is the reason we have reached a leadership position in the industry.  This is validated by leading industry analyst, financial analysts and most importantly, customers. Please take a moment to check out these ringing validations of our products and vision:
We are delighted to partner with Dell and Secureworks on this initiative. They are showing real security leadership in providing tried, trusted and proven next-gen endpoint protection to their customers. In doing so, they are ensuring that many more organizations and individuals can confidently stop breaches.
Additional Resources
The post Historic Partnership Between CrowdStrike, Dell and Secureworks Delivers True Next-Gen Security Without Complexity appeared first on .
Article Link: https://www.crowdstrike.com/blog/historic-partnership-between-crowdstrike-dell-and-secureworks-delivers-true-next-gen-security-without-complexity/