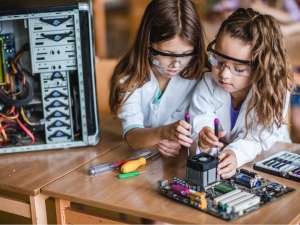 A 15-year-old scientist and inventor has been awarded Time magazine's first Kid of the Year award. Despite her youth, Gitanjali Rao has to her credit several innovative creations in various fields, such as a device capable of identifying the presence of lead in drinking water -which she has named Tethys after the Greek goddess of fresh water- or an application and extension for Google Chrome that uses artificial intelligence to detect cyberbullying.
This young researcher from Denver (Colorado) has explained in an exclusive interview for Time -in which she talks with actress Angelina Jolie- that she hopes to be an inspiration for others to also develop ideas that help solve the world's problems". Gitanjali was chosen from among 5,000 candidates in the United States, aged 8 to 16, narrowed down to a group of five finalists by a jury of children, which also included comedian and 'Daily Show' host Trevor Noah.
Photographed for the cover of the magazine wearing a white blouse and her multiple medals won in science competitions, Gitanjali Rao is aware that women in science have yet to break many clichés. "My goal has really shifted not only from creating my own devices to solve the world's problems, but inspiring others to do the same as well. Because, from personal experience, it's not easy when you don't see anyone else like you."
One of the medals she poses with corresponds to the 'Young Scientist Challenge' she won in 2017, when she was 12 years old. A kit for testing water quality, intended in particular for developing countries, won her that award. "I was like 10 when I told my parents that I wanted to research carbon nanotube sensor technology at the Denver Water quality research lab, and my mom was like, "A what?"" he recalls.
Against cyberbullying
Time also wanted to recognize her work against cyberbullying. Rao has developed an application and an extension for Google Chrome called 'Kindly' to combat cyberbullying, a problem that especially affects girls. Last October, a report prepared by the NGO Plan International on the occasion of the International Day of the Girl pointed out that 60% of girls and adolescents around the world have experienced some form of online harassment and discrimination. Rao has coded his tool using artificial intelligence.
The principle is simple: "You type in a word or phrase, and it's able to pick it up if it's bullying, and it gives you the option to edit it or send it the way it is," says its creator. "The goal is not to punish. As a teenager, I know teenagers tend to lash out sometimes. Instead, it gives you the chance to rethink what you're saying so that you know what to do next time around."
Time magazine began awarding the celebrated Man of the Year award in 1927 – which it later upgraded to Person of the Year – but this is the first time it has created a separate category for children. For this occasion Time, which also publishes the children's magazine 'Time For Kids', has partnered with the Nickelodeon television channel. Just last year, climate activist Greta Thunberg became the youngest person ever to receive the award at the age of 16.

The post Gitanjali Rao, the 15-year-old scientist, awarded Time's Kid of The Year appeared first on Panda Security Mediacenter.
Article Link: https://www.pandasecurity.com/en/mediacenter/mobile-news/gitanjali-rao-time/