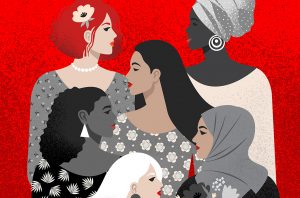 Welcome to the Women of CrowdStrike blog series, a roundup of the latest tips, career advice and growth stories from inspiring leaders across the company.
At some point in our careers, we've all been told that if you don't know something or how to get to the next step, then "fake it 'til you make it." It seems innocuous enough advice, but at a Women of CrowdStrike panel session focused on stories of career growth, some of our panelists revealed that they think this phrase actually reinforces imposter syndrome, especially in women. Each panelist spoke about her experience with imposter syndrome, coming up with a collective list of tips and techniques that anyone can use to demonstrate their success and prove their worth — no "faking it" required. Through their conversation, we learned that in order to get to the next step you need to advocate for yourself. And to advocate for yourself, you first need to understand and recognize your own value.
In this piece, key members of our Women of CrowdStrike group outline the steps that take "fake it 'til you make it" to "wow you with my value."
We'll hear from:
Jenny, Senior Engineer II, Strategic Research Initiatives
Jackie, Manager, Sales Development
Sayako, Professional Services Consultant, Incident Response
Aspen, Threat Analyst, Malware Research Center
Tip #1: Keep a Running List of Accomplishments and Successes
Fight against your instincts to replay a constant chorus of what you wish you had done or could have done better. Reframe it by keeping an up-to-date list of what you did right — and let someone else figure out what you did wrong.
"I find it helpful to just list my accomplishments, like a performance review itself. I'll keep a running list throughout the year of what I've been working on, because then when you look back on it and you're doing your review, you don't have to think, first of all, what am I good at? How great am I? You can just look objectively at that list of things you've accomplished and say, "That's a pretty good list. I did a lot that year." –Jenny
Tip #2: Imagine the Project Without You
One of the best ways to understand your worth? Reimagine your project as if you weren't there. Who would have done the job and could they have done it better? (Probably not.)
"I tend to be a bit self-deprecating, like 'I'm here by accident. I don't know how this happened, but this is just how it is. To reorient that, think about all the things that you like about what you do, what you contribute, how you help people, and how your contributions are reflected, and remind yourself of the quality of that. Another thing that I sometimes like to do is imagine the workplace or a project without my involvement, and think about that as a framework for thinking about the difference that you actually do make." –Jackie
Tip #3: Get Yourself a Hype Squad
Find other teammates that can build you up, reassure you and cheer you on. It's easy to advocate for others, right? Redirect that energy by directing it toward yourself.
"It's important to have teammates that will build you up. Right now I feel really lucky because we're experiencing a renaissance of women in professional services. We have gotten into this rapport of when we're not feeling great, we build each other up and we believe it. When one of my women coworkers comes out and is like, 'Hey, I feel like I really messed up on this project,' I'm there to say, 'No, you're a rockstar. You're killing it, you're doing so great.' And I truly believe it! I know when she does it to me, it feels great and is just so validating. That's where we can really be that community for each other. It doesn't always have to be another woman, it can be another peer that has full confidence in your capabilities even when you don't." –Sayako
"It's hard for me to advocate for myself because all the time — I constantly battle imposter syndrome. But it's so easy for me to advocate for others, especially if I'm a fan of theirs." –Aspen
Tip #4: Listen to Yourself … Literally
List your accomplishments and think about how they would sound to an outsider. Revise as necessary to keep it positive and elevate the list or simply embrace that feeling of being outstanding. Ask yourself: Would you be impressed with you? Based on your answer, either correct the list or embrace that confidence.
"Think about what you have done, and then think about if you were someone else talking to you, you'd be objectively impressed." –Jenny
There's no question that advocating for your own advancement or opportunities can be a challenge for many women, even for women in leadership. However, advocating for others often comes naturally. Get comfortable promoting the work of others and extend yourself that same courtesy. Talk about your work with the same enthusiasm you'd give to others. Treat yourself with the same respect that you grant others. Forgive missteps with the same grace you would give others. The bottom line? You wouldn't accuse your coworker of "faking it" so don't do it to yourself.
Additional Resources
The post "Fake It 'Til You Make It?" Not at CrowdStrike. appeared first on .
Article Link: https://www.crowdstrike.com/blog/how-fake-it-til-you-make-it-reinforces-imposter-syndrome/