Flexible, agile and simple, credit-based licensing is the way to go for software firewalls in virtual and container form factors. Now, with our handy Software NGFW Credit Estimator tool, you can easily figure out when to dial up and down these instances of our industry-leading NGFWs.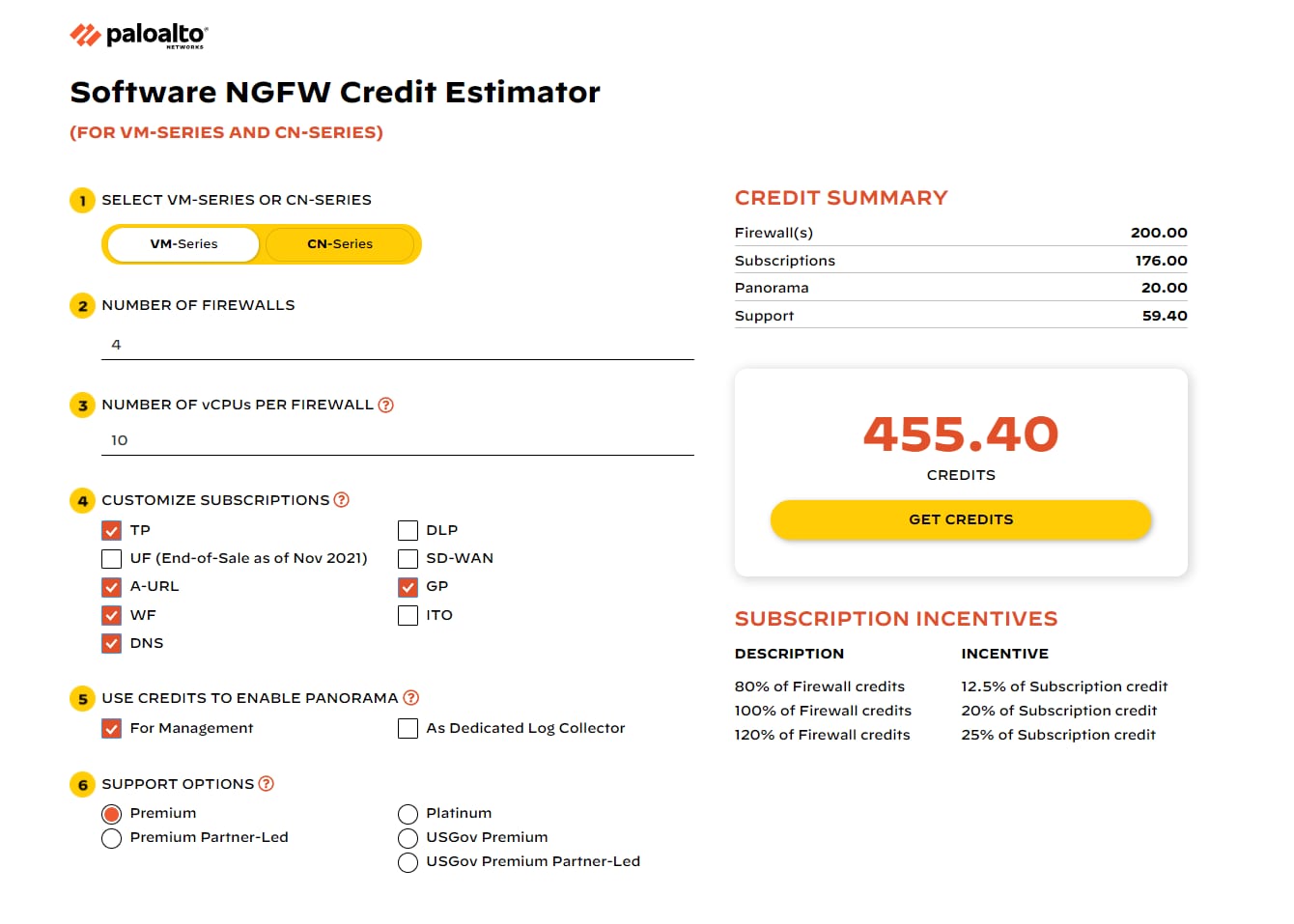 The easy-to-use and elegantly simple estimating tool in action.
Think of it as an always-on tool to more accurately manage your security spending – you can now quickly figure out how many Software NGFW Credits you need for your deployment. Decide how to flexibly size and procure VM-Series virtual firewalls, CN-Series container firewalls, cloud-delivered Security Services and Virtual Panorama.
Speed and Flexibility Are Must-Haves for Cloud Security
To make things easier for our customers, this flexible licensing approach is now the only way to procure software firewalls and accompanying security services. For example, you can dynamically resize your software firewalls in response to changes in your organization. You can also minimize the need for long-term forecasting, which can be difficult for even the most seasoned network security professionals.
What's more, this approach allows you to deploy the latest security innovations as soon as they are made available. Say goodbye to traditional, fix-licensed, hard-to-understand bundles that may not upgrade quickly or cost-effectively. There is no intrinsic technical reason why software firewalls and related security services must be consumed and procured this way, so we changed it. Take a look at this short video to see how it works:
Get Ready to Scale and Procure Security You Actually Use
The Software NGFW Credit Estimator is also designed to help organizations get the most out of budgets. It accelerates the security decision-making process in the credit management dashboard, available to customers on the Palo Alto Networks Customer Support portal (available for active customers). This dashboard provides comprehensive software firewall inventory oversight, so you can see precisely how many credits have been procured, and where they have been allocated and consumed (whether on-prem or in public clouds).
Once you've decided what you need, simply purchase Software NGFW Credits, which can then be allocated to VM-Series virtual and CN-Series container NGFWs, cloud-delivered Security Services and VM Panorama for management and log collection. The process takes three simple steps:
Estimate and procure Software NGFW Credits.
Allocate or reallocate credits across different deployment profiles to activate your choice of security products (any size of VM-Series and CN-Series firewalls, Virtual Panorama) and your choice of security services in just minutes.
Bring up firewalls using the associated deployment profile authorization codes.
Customers can then continue to manage and monitor credits on a regular basis via the Palo Alto Networks customer support portal.
Play Around with Potential
Security is serious business, but we're encouraging our customers to play around with this elegantly simple tool. Check out the Software NGFW Credits Estimator to help save time, money, and quite possibly, ongoing productivity.
The post Digital Tool Estimates Software Firewall Credits for Your Environment appeared first on Palo Alto Networks Blog.
Article Link: Digital Tool Estimates Software Firewall Credits for Your Environment