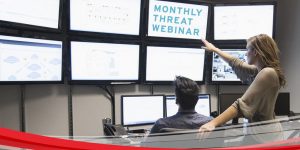 Anyone who has been in cybersecurity for any length of time knows, the threat landscape is constantly changing and requires regularly monitoring of news, blogs, podcasts, and other ways to ensure you know what is happening today. I have tried to bring this information to the public since starting my monthly threat webinar series in July of 2015. Over the years, I've been able to share information about the different aspects of the threat landscape from advanced persistent threats (APT) to zero-day exploits and everything in-between. My focus with these webinars is to share information about how these threats work and the technologies available to defend against them. I regularly have experts join me on these webinars too, so you don't have to just listen to me all the time.
However, my main goal is to help you better understand what you are up against in your fight against threat actors and their ways of attacking you, your employees, systems and networks. I also ask for requests on topics you want me to cover in the future using a survey option within our webinar platform we use. Each of the webinars is live and allows you to ask questions to be answered either during the live event or afterwards via an email. We also record each of these webinars and you can watch them on-demand, as we know your time is valuable and sometimes you cannot attend it live or you want to share with your colleagues. Note – if you sign up for any of the on-demand webinars, you will receive an email with the upcoming month's webinar topic. The April 2019 webinar will cover Bug Bounties and How They Help and you can sign up to attend here.
Webinars are one way we can help you stay educated and up-to-date about the industry and what's happening today, as well as what we expect to happen next. You can also follow our other blogs, like Security Intelligence or Security News, for the latest from Trend Micro Research. We also have great explanatory videos on our Trend Micro YouTube channel.
Feel free to leave a comment below if there are any topics you'd like me to cover in upcoming months or if you simply want to say hello. I look forward to seeing you on one of my next webinars.
The post Continuing Education On Cyber Threats And Defenses appeared first on .
Article Link: https://blog.trendmicro.com/continuing-education-on-cyber-threats-and-defenses/