A wide group of experts from McAfee will be attending the Gartner Security & Risk Management Summit from June 4-7 in National Harbor, Maryland. The summit brings together an estimated 3400 attendees and over 200 exhibitors looking to share their vision, stories and capabilities with a wider range of cybersecurity and risk management experts. Personally, I'm looking forward to sessions on Security Operations, Management and Orchestration,
Join us on Tuesday, June 5th from 10:30-11:15, for a session entitled Appetite for Destruction – The Cloud Edition, given by Rajiv Gupta, SVP of the Cloud Security Business Unit and Raj Samani (@Raj_Samani), Chief Scientist and McAfee Fellow. Raj and Rajiv will examine the evolving threat landscape in 2018 and how the cloud will increasingly come under fire.
Looking to hear more about our view on cloud security? One of our system engineers, Will Aranha, a DC native from Skyhigh, now part of McAfee, will give a great session entitled Cloud Security in the Era of "There's an App for That." While it takes place on Monday, June 4th, the same day this blog was published, swing by the booth if you want a summary or a follow-up on the slides he presented. If you're reading this in time – head to George's Hall D by 1:50pm.
Speaking of our booth, I have to encourage you to visit McAfee at booth #436. Talking to experts 1:1 is one of the best ways to get educated and answer questions. My hope is that you'll walk away with a bigger and broader vision of what McAfee can do. We call it our Device to Cloud protection vision.
Better yet see live demos of both updated and new products. We'll have 4 stations centered on the following:
Endpoint Security – Protecting against advanced and fileless threats is important, but you also need context on threat trends (not just EDR) and the ability respond quickly and efficiently (a single security management console called ePO makes it easier). Find out what the new McAfee is doing differently in this space.
Evolve Your Security Operations – Wondering why you can't get more out of your SIEM? Wish you had a few more tier 2 or tier 3 security analysts on staff? See how analytics and machine-learning can transform how every analyst, regardless of their level, can find threats and make decisions faster. Here's a screen shot from our Mock SOC demo that gives you a taste of how both McAfee Behavior Analytics and McAfee Investigator can transform your team.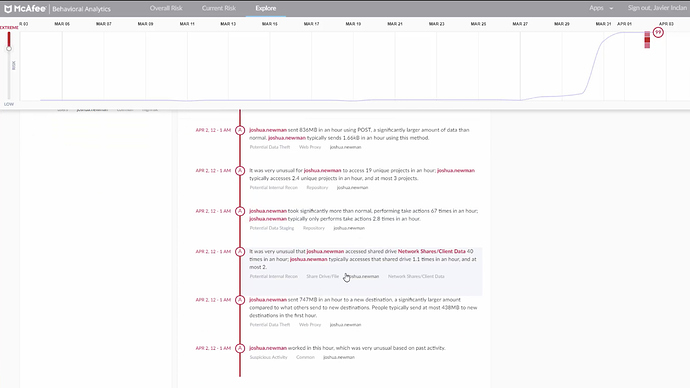 Caption: McAfee Behavioral Analytics (MBA) screen shot that shows a high-risk user and the reason for the rating. MBA uses machine-learning to model users and organizational behavior.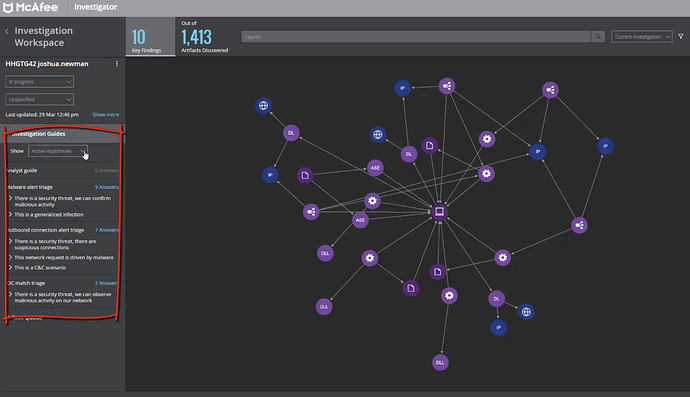 Caption: The beginning of an investigation with McAfee Investigator as shown in the mock SOC demo (the red box highlights a guided investigation). Turns an analyst into a real Sherlock Holmes.
Data Center & Cloud Defense – If you're like most enterprises, you've got some workloads running in a hybrid cloud. The team here will show you how to make protection fast and easy through things like automated workload and container discovery, cloud-optimized threat defense, and network visibility and micro-segmentation. A recent SANS endpoint survey (a multi-vendor effort) showed the network as 1 of 3 top areas where respondents detected compromises.
McAfee Skyhigh Security Cloud (CASB) –Your teams are working the in cloud which makes securing the areas where they work (e.g., Office 365, AWS, Azure, Box, Salesforce, Slack, and others) important. The team will help you better understand everything from DLP to collaboration control policies to detecting compromised accounts in cloud environments.
Click here to find out how MGM Resorts International uses McAfee solutions, including the McAfee SIEM and Investigator products, to significantly reduce detection and response times. Select benefits included:
Improved security posture through well-orchestrated integration and intelligence sharing
Accelerated time and reduced effort to contain, investigate, and remediate advanced threats
Improved collaboration and skills of security investigation team
Stop by our booth (#436) to hear about more customers and use cases. If you can't make it to the show, I encourage you to reach out to learn more about the innovation occurring at the new McAfee.
The post Come Talk to McAfee at the Gartner Security and Risk Management Summit appeared first on McAfee Blogs.
Article Link: https://securingtomorrow.mcafee.com/business/come-talk-to-mcafee-at-the-gartner-security-and-risk-management-summit/