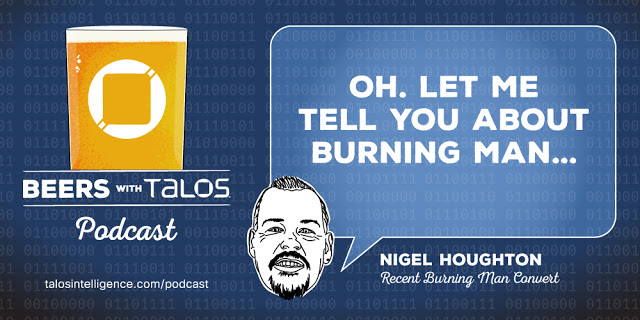 Beers with Talos (BWT) Podcast Ep. #49 is now available. Download this episode and subscribe to Beers with Talos:


If iTunes and Google Play aren't your thing, click 
here
.
Recorded March 15, 2019. We recorded this after coming back from RSA, with some on-location highlights included. This episode opens a bit more thought-provoking than we typically do, and we move toward discussing point-of-sale malware like Glitch. After the RSA highlights, we discuss OpSec fails, and Nigel becomes a Burning Man convert after learning there are people there on drugs with rockets that he watches for fun.
The timeline:
01:15 — Roundtable: Some different, if not important takes today.
16:00 — Glitch POS: Why POS is a hot vector ($$$$)
34:00 — RSA Highlights and random musings (with Ashely Kane and Matt Watchinski)
45:10 — OpSec fails: Try to avoid sending photos of your felonies to police
54:00 — Closing thoughts, parting shots
The links:
==========
Featuring: Craig Williams (@Security_Craig), Joel Esler (@JoelEsler), Matt Olney (@kpyke) and Nigel Houghton (@EnglishLFC).
Hosted by Mitch Neff (@MitchNeff).

Article Link: http://feedproxy.google.com/~r/feedburner/Talos/~3/Pabmzjvd14U/beers-with-talos-ep-49-pos-malware-rsa.html