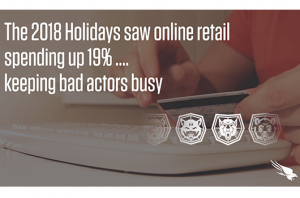 The holidays are a time for reflection, getting together with friends, shopping — and increasingly, cybercrime. With the rise of ecommerce, adversaries gleefully look forward to the holidays as an opportunity to harvest valuable payment and credential information from record numbers of unsuspecting online shoppers. In the United States alone, online retail spending during this holiday season rose 19 percent over last year. In fact, over one-quarter of all consumers shopped online exclusively, which puts additional strain on web server resources and secure payment processing. Even as we turn the corner into the new year, shopping volumes remain high as gift cards and product exchanges take precedence.
Adversaries have taken note of this increased activity and are stepping up their efforts to steal your data. Generally, IT teams are aware of this seasonal spike in threat activity, but most organizations lack the resources to adequately deal with it. Legacy endpoint security products can contribute to the problem because they routinely fail silently, and once the intruder gets in, they can establish persistence and extend their dwell time — to an average of 85 days, according to the CrowdStrike® Services Cyber Intrusion Casebook 2018. One of the trends observed by CrowdStrike and discussed in the Casebook is that eCrime actors are employing more creative tactics and techniques in their quest to monetize attacks. These attacks tend to peak during heavy online shopping days, reminding us that despite our goodwill and cheer, cybersecurity must be a paramount focus during the holiday season.
Keeping Yourself Safe
To help you be better prepared for the seasonal spike in cybercrime during, the team at CrowdStrike has some tips. By combining security hygiene best practices with comprehensive endpoint security, organizations can be ready to address opportunistic attackers before they gain a foothold in your network.
The following are some best practices that can help keep your organization secure now and throughout the coming year:
The Gift that Keeps on Giving: Comprehensive Endpoint Security
The CrowdStrike Falcon® platform stops adversaries before they before they do damage by leveraging artificial intelligence, offering instant visibility and protection across the enterprise and preventing attacks on endpoints, whether they are on or off the network. Falcon protects customers against all cyberattack types — not just during the holidays when bad actors are busy —  but all year by combining signatureless AI and behavioral indicator-of-attack (IOA) based threat prevention to stop known and unknown threats in real time.
Get 2019 off to a good start by giving your organization the gift of comprehensive endpoint security delivered by the CrowdStrike Falcon platform — and have a Secure and Happy New Year!
Additional Resources
The post Bad Actors Are Still Busy This Post-Holiday Season: Tips to Keep Your Organization Safe appeared first on .
Article Link: https://www.crowdstrike.com/blog/bad-actors-are-still-busy-this-post-holiday-season-tips-to-keep-your-organization-safe/